« November 2004 | Main | January 2005 »
December 31, 2004
MISSION TO EARTH
Soft Cinema
MISSION TO EARTH (Soft Cinema Edition), A Media Installation by Lev Manovich: What kind of cinema is appropriate for the age of Palm Pilot and Google? Automatic surveillance and self-guided missiles? Consumer profiling and CNN? To investigate answers to this question, Lev Manovich - one of today's most influential thinkers in the fields of media arts and digital culture – has paired with award-winning new media artist and designer Andreas Kratky to create the Soft Cinema project. They have also invited contributions from such other leading cultural figures as DJ Spooky, Scanner, George Lewis and Jóhann Jóhannsson (music), servo (architecture), Schoenerwissen/ Office for Computational Design (data visualization), and Ross Cooper Studios (media design).
Lev Manovich will present Mission to Earth in The Project Room @ Chelsea Art Museum, New York, NY – from January 8 through January 26. The exhibition includes a public reception, the release presentation of Soft Cinema: Navigating the Database DVD, and a panel all taking place on Saturday, January 8, 2.00 – 4.30pm, 2004.
MISSION TO EARTH (Soft Cinema edition) is a science fiction allegory of the immigrant experience that adopts the variable choices and multi-frame layout of the Soft Cinema system to represent 'variable identity'. In this gallery installation the film is being assembled in real-time by the Soft Cinema software from a large database of media elements. While the narrative stays the same and repeats every 23 minutes, all other elements can potentially change. As a result, there is no single 'unique' version of the film – every run produces a new
version.
SOFT CINEMA: Navigating the Database is the Soft Cinema project's first DVD publication published and distributed by The MIT Press (2005). It presents three 'films', including Mission to Earth, that were created within the framework of the project. Although the 'films' on the DVD reference the familiar genres of cinema, the process by which they were created and the resulting aesthetics fully belong to the software age. They demonstrate the possibilities of software) cinema - a 'cinema' in which human subjectivity and the variable choices made by custom software combine to create films that can run infinitely without ever exactly repeating the same image sequences, screen layouts and narratives.
Lev Manovich, the leader of the Soft Cinema project and the videographer, editor, and author of Mission to Earth, is an internationally recognized leader in the field of new media culture. He is the author of The Language of New Media (The MIT Press, 2001) and Little Movies (1994), the first film project created specifically for the World Wide Web. His computer-driven installations and films have been exhibited in numerous museums, galleries, media and film festivals in the US, Europe and Asia, including ZKM, Karlsruhe; the ICA, London; SENEF, Seoul; and the ICC, Tokyo. In addition, Soft Cinema received an honorary mention at Transmediale 2003 festival, Berlin and is the subject of a short documentary by ARTE-TV.
Andreas Kratky, the author of the Soft Cinema software, has been responsible for media design and co-direction of a number of groundbreaking new media projects, including the award-winning DVDs That's Kyogen and Bleeding Through – Layers of Los Angeles 1920-1986 (both published by ZKM).
FURTHER INFORMATION
Soft Cinema Project
Complete text used in Mission to Earth
OPENING AND PANEL DISCUSSION at Chelsea Art Museum SATURDAY January 8, 2:00 - 4:30 PM with:
Lev Manovich, associate professor of new media, University of California, San Diego
Christiane Paul, adjunct new media curator, Whitney Museum of American Art
Barbara London, curator, video and digital media, Museum of Modern Art
Sue Hubbard, art critic, Independent Newspaper, London
Ken Feinstein, artist/professor of experimental video
WHERE: Chelsea Art Museum is at 556 West 22nd Street, at the corner of 11th Avenue. Take the E or 1, 9 to 23rd Street.
HOURS: Chelsea Art Museum is open Tuesday - Saturday, Noon – 6 PM; Thursday to 8.
TICKETS: Events are FREE with museum admission: $6 for adults, $3 for students and seniors. Thursdays $3 for everyone. Free admission for members and visitors 18 and under.

Posted by jo at 07:01 PM | Comments (0)
Big
Hyperchoreography
The final edit of a dance film is only one ending in a range of infinite possibilities. The sequence of the material is essentially down to artistic decisions made at a particular point of time in the edit, usually by the editor and director of the work. Hyperchoreography offers an alternative approach. Using digital hypermedia, Hyperchoreography is a non-linear dance performance 'space', existing in an interactive, networked medium. The elements are put in place by the creators, but the shape of the work is decided by the user at the moment of interaction.
Big represents one particular train of thought within the greater concept of Hyperchoreography. It offers the chance to explore a body of edited material whilst creating a multi-screen video-dance work.
Posted by jo at 10:43 AM | Comments (0)
The Analogous Landscape: Rim of Fire
Inferencing Techniques for Navigation of Terrains
Defining the nature of resemblance between things that are otherwise unlike is the focus of The Analogous Landscape project. In the tradition of monumental works by environmental artists Robert Smithson, James Terrill, Christo, Richard Long and the Harrison's, C5 intends to produce a large scale conceptual and performance artwork. The Analogous Landscape: Rim of Fire project integrates a sophisticated research agenda within the context of adventure sports, corporate culture and art. Beginning with the successful expeditions in 2003 to ascend Mt. Shasta and Mt. Whitney in California (the highest peak in the continental United States) C5 is planning research expeditions with the intent of climbing 20 volcanic mountains along the Pacific Rim of Fire. The environmental space of the Pacific Rim is a complex dynamic shaped by a context of economic globalization and post-modernization.
The objective of The Analogous Landscape: Rim of Fire project is to develop inferencing techniques for navigation of terrains of similar characteristic. At issue is whether navigation paths can be transposed by analogy on a selected terrain's other. To address this, initial expeditions will be analyzed to produce predictive navigation scenarios that can be imposed on the succession of expeditions. C5 intends to re-describe the landscape as a factor of expeditionary experience. Using GPS (Global Positioning Systems) technology C5 research teams will collect ascent path tracking data that will be computer modeled in three dimensions. Video and photographic documentation of the expeditions will be interactively linked to the tracking data (time and location data) through a unique computer interface design. Each mountain will be computer fabricated directly from space shuttle and satellite DEM (Digital Elevation Mapping). A singular model will be produced directly from a cumulative integration of the track logs. The final installation will include the above elements within an interactive display environment.
Posted by jo at 10:09 AM | Comments (1)
Psychogeography and Imperial Infrastructure
Psychogeography and Imperial Infrastructure, by Brian Holmes, Springerin.

Great social movements leave the content of their critical politics behind, in the forms of a new dominion. This was the destiny of the revolt against bureaucratic rationalism in the sixties. The Situationists, with the practice of the dérive and the program of unitary urbanism, aimed to subvert the functionalist grids of modernist city planning. They tried to lose themselves in the urban labyrinth, while calling for the total fusion of artistic and scientific resources in »complete decors« –»another city for another life«, as the radical architect Constant proclaimed. With the worldwide implementation of a digital media architecture – and the early signs of a move toward cinematic buildings – we are now seeing the transformation of the urban framework into total decor (Lev Manovich: »In the longer term every object may become a screen connected to the Net, with the whole of built space becoming a set of display surfaces«. What kind of life can be lived in the media architecture? And how to explain the continuing prestige of Situationist aesthetics, in a period which has changed so dramatically since the early 1960s? Continue reading >>
Posted by jo at 10:02 AM | Comments (1)
December 30, 2004
Vidget 3.5
Experimental Performance Device
Vidget 3.5 is an experimental interactive audiovisual performance device which allows the user to manipulate video in real time online. As well as mixing a number of video clips together, the user may search for still images from the Flickr photo sharing site and mix them together. [via unmediated]
"...this version (Vidget 3.5) follows on from previous versions: Vidget 1; Flickr Image Viewer (Vidget 2); and Vidget 3...For instructions on Vidget 3.5 usage, see previous versions above.
Notes:
The main feature which has been fixed is the Flickr image search function. Over the last few weeks flickr.com (a very cool photo sharing site) has been changing the way they format their RSS feeds which means previous vidgets are broken. Things seem to have settled down now after a brief period of including 'enclosure' tags in their feeds I am back to parsing information from the 'description' tags for each image.
I am also back to using separate movies for the controls and output of the vidget. This improves the performance greatly as the output movie (which composites up to 3 source movies over the top of each other in real time) is rendered at 320*240 and may be increased to 640*480 by viewing at 'double size' in the Quicktime Player. I was having a lot of problems with sending the url of each of the 'source' movies from the controller movie to the output movie to be loaded. The solution was to have the output movie effectively 'ask' for the url via a custom event.
The controller movie now finds the url of the selected source movie (from either the xml file which lists the names of my clips or the Flickr RSS search response), sets it as a 'string variable' and then executes a custom event in the output movie which reads the 'string variable' back from the controller movie. The same process applies to tell the output movie which Movie In A Movie track to load the clip into.
Here's a bit of the LiveStage Pro Qscript for the controller movie:
SetStringVariable(1, channel)
SetStringVariable(2, bignumber)
SetStringVariable(4, movpath)
MovieOfID(12345).TrackNamed("Untitled Sprite").SpriteOfID(1).ExecuteEvent(42684)
The output movie then executes an event which gets these variables and sets them as 'Movie Variables':
SetString(channel, MovieOfID(838482).GetVariable(1))
SetString(bignumber, MovieOfID(838482).GetVariable(2))
SetString(movpath, MovieOfID(838482).GetVariable(4))
TrackNamed(channel).AddChildMovie(bignumber, movpath)
TrackNamed(channel).LoadChildMovie(bignumber)
Livestage Pro source files: Controller, Output"
Blogged by David Wolf
Posted by jo at 08:40 AM | Comments (0)
December 29, 2004
Communication Grill Chang-tei
Chat or Go Hungry
Communication Grill Chang-tei (CGC) by Japanese artists Kou Sueda and Kouji Ishii, is an electric cooker controlled by a chat software for making Yakiniku (Japanese-style barbecue). The conversation exchanged on a network powers the electric heater. In order to roast meat, you have to continue carrying out a chat with the person that shares your table. Once you stop chatting, the fire of the electric heater goes out. But beware, if the conversation gets too lively, the meat could burn. View movies [via unmediated].
Posted by jo at 12:13 PM | Comments (0)
Wireless Politics
The Future of Digital Democracy
Wireless Politics May Determine Future of Digital Democracy, Part One of a Two-Part Series by Michelle Chen, The NewStandard, December 29, 2004.
"A teenage public housing resident searches the web for scholarship opportunities while her mother looks up tips on starting a small business. A public art space lets visitors download a multimedia exhibition onto their laptops, which are simultaneously linked to a dozen other galleries around the city. A local Independent Media Center breaks news before the major network affiliates by sending a report instantly to thousands of home computers sharing a wireless network.
You may not be able to see into the future of digital democracy, but you may already be breathing it; the new frontier, say activists and technophiles, is on the air. Broadband access and its wireless digital "ether" are giving rise to a new technological geography that defies spatial boundaries and historical precedent." Continue reading >> [via]
Posted by jo at 11:35 AM | Comments (0)
Questioning the Frame
Thoughts about maps and spatial logic
"...Terms such as "mapping," "borders," "hacking," "trans-nationalism," "identity as spatial," and so on have been popularized in recent years by new media theories' celebration of "the networks"—a catch-all phrase for the modes of communication and exchange facilitated by the Internet.
We should proceed with caution in using this terminology because it accords strategic primacy to space and simultaneously downplays time—i.e., history. It also evades categories of embodied difference such as race, gender and class, and in doing so prevents us from understanding how the historical development of those differences has shaped our contemporary worldview.
..." Read full article Questioning the Frame: Thoughts about maps and spatial logic in the global present by Coco Fusco, In These Times, December 16, 2004. Responses to the article culled from Locative and nettime:
Responses to the article culled from locative and nettime:
Date: Thu, 16 Dec 2004 22:26:27 +0000
From: Pall Thayer
Subject: [Locative] Questioning the Frame
To: locative@x-i.net
hmmm.... I just wish she would mention some of the mapping projects she's talking about. She really seems to have a narrow understanding of what artists are doing with locative media. She seems to suggest that one of the problems is that the artists have too much control over the social picture that the maps portray. And other artforms don't? I'm going to have to read this through a couple of times to make sure I really understand what she's saying but after a couple of scans it really looks rediculous and I almost get the feeling that she regrets not being a "hacker".
Pall
Ewen Chardronnet wrote:
well, she always comes with interesting art critics and post-colonial discourses, but use same dialectics each time. I remember reading same dialectics in her critics on "art and science" hipe and "critical art ensemble trial" hipe. And now the "locative media" hipe... You can be sure there will be a critic on "pervasive arts" and "space arts" soon, etc. and of course better if those arts are done by white male artists

E.
Date: Thu, 23 Dec 2004 17:08:14 +0100 (CET)
From: Brian HOLMES
Subject: [Locative] A Reply to Coco Fusco
As a critic it's important to read your peers, and try to assess the pertinence of your own work in the mirror of theirs. So I was curious to read Coco Fusco's recent article on mapping [www.inthesetimes.com/site/main/article/ questioning_the_frame]. However, I must say that her continuous assertions of cultural authority leave me feeling highly ambivalent. On the one hand, the threads of historical memory she brings up are extremely welcome. On the other, her unwillingness to engage with current conditions and projects tends to reduce the past to a complaint: Why isn't it the present anymore?
It's true that the raw fact of being older than the majority of the people in a given crowd can make you feel uncomfortably lucid. When I went to a conference on so-called "locative" or GPS-based media at the RIXC center in Latvia, I found most of the projects quite naive, developing a few stylistic traits of situationist psychogeography in the absence of any geopolitical critique of power relations, or any philosophical critique of instrumental rationality. In effect, a Cartesian worldview has been built into the computerized technology of graphic information systems, which are undergirded by megaprojects of military origin, or what I call "imperial infrastructure." But rather than just giving a disciplinary lecture with all the answers stated in general terms, I tried to show how changing conditions had made the once-subversive traditions of psychogeography quite superficial, to the point where the aesthetic forms the artists were using seemed to render the very infrastructure of their projects invisible. And when I recently published that paper out of context in Springerin, I took the time to name all the artists and projects in question, so as to establish the precise referents of the critique [springerin.at]. I wish Coco Fusco would make that kind of minimal effort, as it would bring her sharp observations into contact with actual projects, and open up a space of possible transformation.
More to the point: When I began my work on mapping, about four years ago now, as a direct result of involvement in demonstrations against the policies of the WTO and IMF, I too felt that the most important reference was the history of the Third World movements of national liberation, in their relations to the Western civil rights and new left movements of the 60s and 70s. In an early text that was finally published in the book Moneynations, I tried to show how the very concept of the Third World, and then above all, the reality of the Movement of Non-Aligned Nations, acted to open up new imaginary and real spaces within the dominant bi-polar map of the Cold War [http://2002.memefest.org/en/defaultnews.cfm?newsmem=15]. I asked the question whether the emergence of the World Social Forum in Porto Alegre could be compared to the Bandung Conference in 1955. Obviously, the answer was that it could not: both because the current antisystemic movements do not (yet) have the strength that Bandung represented, and because the operative modes of opposition may well have changed fundamentally since 1955.
The global importance of the Third World movements lay in the new kinds of international solidarity that they helped provoke. But something important remains unstated in Fusco's references to these movements, and this is the fact that the major links that tied them to the First World do not exist anymore (nor, indeed, do the movements themselves, for we are talking about specifically national movements in the period of decolonization). One of these links was an aspiration to create a non-Stalinist form of communism, according to the examples given by the successful Cuban and Vietnamese guerrilla insurgencies, and also by Yugoslav self-management (one must remember that the non-aligned movement came officially into existence in Belgrade). Another powerful link was the notion of cultural authenticity, or inherent difference from the Western norm, as a liberating foundation upon which newly independent nations could be built. This Third World concept served as a basis for the struggles toward a multicultural society in the First World. Today, however, the egalitarian aspiration to a self-managed communism has no objective touchstone in reality, leaving those who feel its lack in a deep state of ideological disarray. At the same time, the notion of cultural authenticity has been largely usurped by nationalist or fundamentalist projects which, although they have fortunately not eradicated all work towards equal rights in a multicultural society, have nonetheless made it very difficult to raise the banner of cultural or ethnic difference as a rallying-point for international solidarity.
Instead of relying on the old internationalist slogans (Third Worldist or proletarian), the transnational movements of dissent that gathered strength throughout the 1990s tried to use the communicative power of the discourses of human rights that had gained currency in the 80s, largely through the resistance of people in the former Eastern bloc to totalitarianism, and in Latin America to dictatorship. It was subsequently necessary, in the late 90s, for the Western participants in these transnational movements to take the further step of putting their own bodies on the line, of taking direct action against the international economic institutions, in order to go beyond the abstract character of the human rights discourse. This was a way of responding, in the overdeveloped countries, to the sacrifices of the many "IMF riots" that had been held, often at great cost of life, in what was now being called the Global South. Anyone who believes this step was taken by middle-class white kids acting on internet fantasies, in the absence of direct input from social movements around the world, quite obviously didn't go to any of the demonstrations and paid no attention to the planning process or the reports.
The point, however, is not to suggest that a brief flare-up of worldwide protest has brought about any substantial change. It is rather to recall what a difficult and long-term effort is really needed, both to grasp the way that transnational state capitalism now functions, and to articulate large-scale resistance. When Josh On [www.theyrule.net] or Bureau d'Etudes [http://utangente.free.fr/index2.html] make their complex charts of contemporary power relations, one can be assured that the cold and abstract character of the results is very painful to them. I can testify, particularly in the second case, that they are acutely aware of what is missing from such documents: namely, some affective indication of resistance from below, who does it, how they work and why. What has been achieved in such cartography projects, however, is a contribution to the very large-scale effort to rebuild a critical grasp of the oppressive forces that create the dominant map of the world. This kind of power-mapping is a necessary prelude to any effective resistance or counter-proposition. The fact that the difference between such efforts and the current military maps used by the Pentagon does not appear clearly on American TV is hardly something you can blame the artists for! There is a difference between general culture critique and constructive critique directed toward people carrying out specific projects.
Somewhat like Coco Fusco, I often wonder why contemporary artists appear so broadly unable to infuse the dominant map with representations of - or even better, direct links to - the many and diverse dissenting groups and alternative philosophies that are now emerging in the world, or that have remained active over decades. Unlike Coco Fusco, however, I don't think it's useful or necessary to berate artists today for not having been born earlier. The great philosophical frameworks of national liberation and egalitarian self-management that were able to articulate far-flung resistance movements in the past are inoperative in our time. The urgency is for real individuals of all generations, on all continents, to put their heads and hearts together and create new articulations. The specific job of writers and organizers is then to give those articulations conceptual clarity and popular currency, so that they can effectively challenge the absurd world-views presented on American TV.
As to artists, for whom the naked power structures of the contemporary world must now be quite visible, I encourage them to delve more deeply into the diverse efforts that are being made to resist the imposition of a homogeneous control structure on the entire world. This requires looking outside the boundaries of class, ethnicity and nationality, as certain artists and intellectuals of previous generations effectively did. To live up to the great examples of the past then means imagining something quite different for the future. Need it be said that certain kinds of imagination can serve as the first steps towards a transformation of reality?
Date: Fri, 24 Dec 2004 04:13:32 +0000
From: Saul Albert
Subject: Re: [Locative] A Reply to Coco Fusco
To: Brian Holmes
Hi Brian,
I read both Coco Fusco's piece and your response with interest and a little bemusement. You addressed the lazy generality of CF's rant very well, and touched on a couple of things that provoked me to write back:
Firstly, can we please get away from technological determinism?
Yes, the use of military-industrial technology can be problematic, but that criticism in your text is as widely and as targetlessly applied as Coco Fusco's. Many people are using these technologies (GPS/mobile phones/internet/high-tech gizmos), the social movements that you use as your reference points as much as anyone. In fact, it's not like we really have the choice about using these technologies , being subjects in a technocracy... and it's only out of the appropriation and reuse of these technologies that critique can form and attempt to reconfigure the social and political relations that produced them in the first place. Even on a non-technical level, using these technologies and observing their effects and deployment has been instrumental in the development of a number of political discourses: information and affective labour, precarity, [cyber]feminism etc. The critique develops as much from practice as practice develops from critique.
example: London Free Map - http://uo.space.frot.org/?node=LondonFreeMap
http://chinabone.lth.bclub.org.uk/albums/misc/london_free_map.sized.jpg
Jo Walsh and Schulyer Erle have been working on the 'London Free Map' This project encourages participants to walk, drive, cycle or skate through city streets with GPS units and then use the 'traces' of points representing latitude and longitude that these devices generate to help create publicly licensed geodata. They are also working on adapting existing open source software to enable people to annotate and extend these maps in a very flexible way. The example linked to above shows straight lines representing GPS traces made wandering the streets of Limehouse, East London, an area undergoing a huge urban regeneration process in preparation for the proposed Olympic games in 2012. The labeled points are the locations and names of approved planning permission applications made to the London Borough of Tower Hamlets in the last five years, automatically retrieved from the council's website and plotted onto a scanned out-of- copyright historical map of the area from 1916. This is just one potential use of the London Free Map, a way of visualising physical and historical changes to a space undergoing a huge social and economic upheaval. The potential for further uses and the development of new, as yet unimagined maps from this project seems evident.
Secondly, I found the distinction between these technologically specific, less overtly political projects, and the 'power-mapping' practices of (the wonderful) Bureau D'Etudes and many many others to be a bit thin. I know you share their frustration at having to use the language of power to map power, but the problem is not just in the inability of this form to represent the fertile heterogeneity of the social movements. 'Power mapping' deals in the currency of power, and its representational structure can reinforce the dynamics of the relationships it represents. More worryingly, the unnerving coherence of these representations can also become ised easily - the currency of power made visual, or (worse) 'data visualisation' knits neatly into artistic and authorial currencies and relationships that can become as reactionary and totalising as the military-industrial technologies you were warning against earlier.
I know you know this, your descriptions of the playfulness of the Bureau's maps illustrates the path they choose out of this bind : 'solidarity with aliens'. But people using similar or derivative techniques seem to embrace the solemnity and darkness of their maps without having the escape pod provided by their humour.
What encourages me about initiatives like the London Free Map and many of the projects in the orbit of the 'locative media lab' is that they often work, on a very basic level, to avoid totalising representations. To some extent this is emerging as an informal agreement on technologies, open Semantic Web standards and other esoterica that I'm not really equipped to explain. Also, many of these projects are based on public workshops, working with people and groups on producing representations of themselves, spaces, movement and relationships. Of course none of this is inherantly interesting. Public workshops and 'open' technologies carry their own wealth of dead ends, vices and travesties, but they certainly are politicised - and politicising, in a very different and more subtle sense than that of 'power maps'. The contingency on input from the map-users is the most obvious distinction between these forms of mapping and the two examples of 'power mapping' you mentioned. Of course this aspect of 'participation' in the making of the map is just as worrying in terms of which currencies it evokes, auteurship and the 'framing' of 'public use' in the interests of pseudo-ehthographic artistic value creation etc. etc.. But the locative media lab's engagement with corporations, the way some of it is like cheap corporate R&D in exchange for getting to use fancy devices, the links with 'community groups' funded and instrumentised by arts bodies, and with governments for use of geodata is all messy, difficult, and suspect, but necessary if the technology, and the discourse are going to develop.
This probably warrants more examples, which I'm too tired to start with now.
I guess the problem is that criticising something is difficult because you have to explain why, whereas blithering pleasantries about things you like is not so demanding.
keep up the good work brian!
X
Saul.
Date: Sun, 26 Dec 2004 23:48:54 -0800
From: John Hopkins
Subject: Re: [Locative] A Reply to Coco Fusco
To: locative@x-i.net
>>Firstly, can we please get away from technological determinism? Yes, the use of military-industrial technology can be problematic, but that criticism in your text is as widely and as targetlessly applied as Coco Fusco's. Many people are using these technologies (GPS/mobile phones/internet/high-tech gizmos), the social movements that you use as your reference points as much as anyone. In fact, it's not like we really have the choice about using these technologies , being subjects in a technocracy... and<<
Why no choice? If no choice, isn't that technological determinism to the extreme degree?
It is an incremental process -- each mile you drive onwards in your fossil-fuel burning device, or crank open the thermostat in the house, that drives the social system further onward in its dominance. (it propels the US military machine a bit further in its desparate mission to secure the true power/energy-base of the social structure that is is an integral part of). each time you don't do those things de-poweres that same system.
each time you watch one minute of centrally organized media you give that structure more power. each time you cross social-structural boundaries and engage an Other human directly, you depower those ordained structures.
hmmm.
JH
Date: Mon, 27 Dec 2004 11:32:20 -0000
From: "Armin Medosch"
Subject: Re: [Locative] A Reply to Coco Fusco
Hi Saul, Hi Brian,
let me first make some sort of disclaimer: I am happy that Coco's article (which I have not read, but can roughly imagine what it contains) triggered this discussion about locative media which was long overdue. I think many people have felt uncomfortable with the unarticulated political 'content' or 'meaning' of locative work but have not spoken in public. One reason for that might be that they felt, as I did, that there is a lot of potential in that field and that the (mostly young) people involved did not deserve to be bashed for all their good intentions, even though those intentions sometimes gave relatively weak results. Finally the lid has been blown off and that is a good thing. I now do neither want to argue for or against Saul or Brian but just throw in my two-pence. I also have to say that writing something really meaningful about that whole area would take at least a day and I simply don't have that time right now. So please excuse the immaturity of my words which are quickly written in a sort of email improvisation which I guess was once the spirit of internet discussions which is now often sadly missed.
Saul said at the very beginning of his reply:
>> Firstly, can we please get away from technological determinism?
What does this statement mean? It is indeed important to 'get away from technological determinism'. But what this statement should not mean is that we should not consider or discuss technological determinism.
Saul continues:
>> Yes, the use of military-industrial technology can be problematic,
I would go further and say that 'can be problematic' is not strong enough. It _is_ problematic, always. The instrumental power that is contained in those technologies is a central issue of our time, and by 'our time' i do not only refer to the last couple of years or so but to the last 50 or even 100 years. Therefore I think such statements about technological determinism and military-industrial technology should not be used to quash any discussion about those issues. Those issues should exactly be the starting point of any discussion about 'locative' projects and indeed media art and net art projects. This is where the media art community has failed over the last 20 years which I was able to witness as a grown up person. It is one of the big failures of that community and possibly one of the reasons why it made so little real progress over that period of time. When I say 'real progress' I of course don't mean technological progress, of which we have seen plenty, but a progress in the social use of those technologies, in their accessability and applicability, in their ability to have an actual impact on the improvements of the situation of people.
I am arguing from a point of view of art that is based on a definition of art whose main reason to be is political. Such an art should be able to transcend the current power system. By 'transcending' i don't refer to metaphysics but to the actual socio-historic situation. In this situation and its projection of possible futures it should open up spaces, spaces for alternative ways of thinking, spaces that offer people different opportunities, for instance to realise alternative viewpoints outside the dominant system, or, more practically speaking, to be able to develop ways of resistance and at least limited ways of autonomy. Of course we cannot ask too much from art and the current level of oppression is so high, the ideology of technological determinism so deeply entrenched that it has become very hard to imagine anything that makes a real difference. But at least people should try. I am afraid I could not see that in most locative projects and in most of the discussions that have been had about the topic so far.
Most of the projects (I am aware that such generalisations without reference to particular projects are always lame but simply have not the time to go through bookmarks and list archives now) simply continue the master trope of the narration of hypermodernity, which is about expansion of technological mastery, coupled with economic growth, all under the banner of 'usefulness' for the people. This is how new communication technologies are being advertised. The mobile phone gives you freedom, it improves your social life, you can use it to form Rheingoldian Smart Mobs and if you put a little FOAF into it you can even realise alternative politicised virtual communities with it. Of course you can do all this stuff, it is even true. But by doing so, you are not leaving the established playing field, a field that has been established by the forces of techno-rationality in the service of capitalism.
I know it is a bit unfair to mention that here but the most significant 'locative' projects in that regard are Blast Theorie's mobile games. The critical content of those projects is nil. The whole thing blew up at futuresonica last year but most people could not read the signs on the wall. Of course their projects are resourceful, maybe well programmed, maybe even entertaining. But they are fundamentally affirmative of the world we live in and completely one-dimensional.
Now, to come back to the core question: it is simply wrong to ask if we are allowed to use military-industrial technologies. of course we should use them (and I do that by simply typing an email) but if we do it matters how we do that. do we contribute to the disguise of the political content of those technologies and thereby continue the positivistic narration of expansion and 'usefulness'? or do we use them to expose that which is always subconsciously present, that in this system, as Herbert Marcuse said 40 years ago, power is transferred into technological systems and that our dependency on those system makes us to their reified subjects? It is a general trait of this society that the powers that be try to cordon off the political. The positive side of things (technological things, gadgets, gps, pda's) gets highlighted but not what comes with it, not this hard to pin down element of power that has become nameless and faceless because
it has been inscribed in, is contained in the technological system.
Now, coming back to locative per se, I think Brian is right to say: "In effect, a Cartesian worldview has been built into the computerized technology of graphic information systems, which are undergirded by megaprojects of military origin, or what I call "imperial infrastructure."
Maybe he ment to say Geographical Information Systems (GIS). GIS combined with GPS and so forth truly signify the victory of Cartesian space over real space. Of course this victory is only a fake victory and never a final victory but it defines the current state of the arts in 'mapping'. Is it therefore forbidden for artists to use GIS? Of course not. The project by Jo Walsh and Schulyer Erle that Saul mentions, 'London Free Map' is a very good example. It is maybe not an art project but that does not matter. It tries to democratize GIS power, democratize in the sense of direct bottom up democracy and not fake vote rigging mind manipulating democracy (oh, that word, can someone suggest a better one?). It is experimental and utopian, it relies a lot on FLOSS and is probably difficult to use for people who are not tech-savvy, but that does not really matter at this point; it does not entertain in the way Blast-ed projects try to but that is effectively its strength. It involves fun, but of a different kind. We need more projects of this kind and we need a discourse that is better able to differentiate between projects that open up those other spaces and projects which simply fall into the technological deterministic trap.
I hope we can begin conversations that are critical and constructive and not about our personality disorders of which we all suffer to a certain degree, necessarily, because they are a function of that system we are subjected to. In this sense I agree that a lot of the 'psychogeography post-situationist' talk sounds naive. But at least it shows a desire to get away from Cartesian space and to reconceptualize the highly regulated spaces we live in. It makes a lot of sense to link FLOSS, art and the history and presence of liberation struggles, but that debate needs updates and rejigging too.
Hoping to be able to talk about those issues in a more elaborate way soon and also hoping to hear from other people now
regards
armin
Date: Tue, 28 Dec 2004 02:21:22 -0800
From: karlis
Subject: [Locative] Don't be shy
To: locative@x-i.net
...Executive Summary:
While studying locative media projects, a computer user realizes the value in talking to people.
Extended Commentary:
A romance of the aesthetic of the internet. Be somewhere, anywhere, it doesn't matter, "jack in" to the internet, and you're home, with your office and your contacts and connections. The presently inhabited city, be it Riga, Ljubljana, or Vancouver, is like wallpaper or decor in a restaurant. The principal interaction with the world is through the internet, and the information available there, the rest is somehow peripheral. So naturally when we approached the ability to make computing mobile and location aware, there seemed to be an answer of integration; finally the drift and nomadism would be informed and fulfulled with the power and potential of the network computer. All your revolutionary fantasies come true. Except the devices are retarded and complicated and expensive; they don't work properly, and they make you into a Steve Mann cyborg, someone more appopriately dressed for a mid 1990's DefCon hacker fair in Las Vegas than any part of life in public.
We tried to simplify the gear and determine what it was supposed to do, which was connect us to the network, make us contextually aware within that network, and informationally aware within that spatial context. The equipment had to be "naturally human", so that it is still possible to interact with the environment and the local culture without handicap.
No cyborg head displays or cybergloves, or star-trek tricorders. It also has to be inexpensive and uncomplicated and break-proof.
A beautiful natural language interface was developed (using selective evolutionary algorithms, no less). Billions of client terminals connected to a global information network have been deployed, planet-wide, that use this natural language interface.
They're called people.
Sitting behind my computer and obsessed with the internet for ten years, I totally missed the obvious connection that local people are connections to the whole network, the network of all information connections which includes the internet but also "old Joe Smith" with whatever he's got to offer. It's the same reason why I haven't needed a watch since I was 15 - someone around me always knows the time. The connection to the network is not limited to a GPS satellite signal reciever and a 2.4GHz wireless internet supercomputer laptop. Rather it's just a link to the next node with different information that what you can access on your own. The easiest, most locative way to access that network is by talking to people, and if these studies are urban, there's going to be people. Forget WiFi and GPS. Ask for directions. Ask the nearest person, or if you're aesthetically driven, ask the nearest good-looking one. If they don't have the answer, they might know someone who does, or can suggest an alternative. If they don't speak your language, they'll likely direct you to someone who does.
Maybe that's should be obvious. But as a bedroom caveman computer hack, to look around and find that this perfect system has already been implemented is amazing. It's multi-modal with multiple redundancies. Ubiquitous. Reliable. All-weather. Fuckable.
Maybe an internet legacy of the military paradigm has poisoned our preconceptions about the reliability and desirability of technology vs people. But if we are nice and friendly and not locally despised imperial soldiers, we don't have to bring all our knowledge in a computer. We can talk to the nearest person.
When I was in an busy new space I formerly looked around and saw great potential for overlaying great collections of information and data or media texture in location, if we could develop the system to realize it.
Now I see that this network is already in place, mobile info nodes are walking all around, ready to be engaged, connected to vast networks of people and information. Standard APIs. It's amazing. Sometimes you have to ask a bunch of times, even before you realize the right question to be asking. But if the information is there, someone has it, and you can find it.
The mention of technological determinism and political action, brought up in the context of locative media, seemed to make this "amazing" revelation relevant again. It has been called a serious political action to find ways beyond the gap between people in the very technically-focused and alienated population. Techno-fetish locative media projects made me realize how important and powerful it is just talking to people.
OK!
cheers
karlis
Date: Wed, 29 Dec 2004 14:15:32 -0800 (PST)
From: coco fusco
Subject: Questioning the Frame
In response to Geert's request, below is my commentary that was published in IN THESE TIMES recently. The comments were based on my lecture at the School of the Art Institute of Chicago in November, 2004. The series is entitled:
MAPPING / CULTURE / BORDER / HACKING /
and the school's description of the series is:
"This lecture series examines the work of artists, artist-collaboratives, and film/video makers whose works address or proceed from shifts in articulations of global culture, politics of the border and dilemmas of transnational or diasporic identities--identity as a spatial concern. Special attention will be given to artists who use the gesture and organizational logic of mapping, cartographic sciences and the grid to locate identity as well as its displacements."
I found this description so baffling and overladen with jargon that it prompted my response.
I have not had a moment yet to respond to Holmes's post. I found it a bit surprising that he would locate a response to an article in a left-wing Chicago newspaper on a list-serve with a primarily European readership (of his allies, I would add). A decision to locate his response HERE as opposed to THERE seems more like a rallying cry to his nettime readership than an address the substance of my argument or to the public in Chicago, a city with a long and venerable history of community and labor organizing, activist media, and radical black politics.
Coco
Posted by jo at 10:19 AM | Comments (4)
Envisioning the ubiquitous city
Control, Misuse, and Subversion
"...The rapid convergence of mobile communications, automated positioning technologies, and geographic information systems (GIS) into "locative media" is raising the possibility of a dramatic transformation of the way we perceive and move about the urban environment, and how we interact with each other in urban spaces. Endless possibilities for locative media are being proposed that promise increased convenience, awareness, transparency, and access to information and social opportunities that break traditional power structures.
Simultaneously, at this moment of realization of the potential of locative media, there is an emerging sense of helplessness at the potential for control, misuse, and subversion of these technologies. Whether by states or anti-state organizations like al Qaeda, locative media extend the ability of the powerful and mobile over the weak and immobile. Cross-referenced information through geographic tagging adds many more dimensions to the problems already raised by unchecked, widespread linking of relational databases in industry and government..." Read entire post by Anthony Townsend [and The Auto and The Mobile by Howard Rheingold].
Also, see Townsend blogs Wireless Public Space and Telecommunications: New Media and Cities.
Posted by jo at 10:01 AM | Comments (0)
Free Network Visible Network
Watching Information Flow
Spanish researchers Clara Boj and Diego Díaz are working on the Free Network Visible Network, an augmented reality project which aims to make visible the exchanged information between computers of a wireless network. First, marks in the facades of the buildings will indicate the presence of a node, thus the possibility of connecting to the net, and at the same time to see the 3D representation of the information that we are interchanging with this node in real time.
Free game tools will then be developed that use the location of the players in the physical space as main element of the action development. For example, players would be able to modify the information (message, images or videos) on the marks placed in the physical space and record messages for other users / players. Or they would be able to change the publicity images or the urban signals by using small marks and creating game strategies. Besides, the players will know in real time the position of other players if they are looking to a mark. On the basis of these simple applications, users will be able to develop their own games.
Via Aminima, reblogged by Regine at near near future. See also Visualizing Social Networks by Linton C. Freeman [PDF].
Posted by jo at 08:24 AM | Comments (0)
December 28, 2004
receptor-sculpture
transmitting and transmuting
Tentacle (2004) from Swedish arts collaborative Beeoff (Olle Huge, Tomas Linell and Mikael Scherdin), is a receptor-sculpture on a network that feeds streamed content ("streaming media") over the Internet to several stations.
Tentacle gathers and transmits sound and images from nodes at distributed locations, transmitting them to a central editing computer, creating new content which is rebroadcast simultaneously back to the translucent, sculptural nodes at each location. Tentacle has been exhibted abroad in Paris (Villette Numérique), Stockholm (Splintermind – the artists' studios) and Helsinki (Kiasma Museum), and will be exhibited for the first time in the United States at Eyebeam for their Artist in residence program.
Posted by michelle at 09:33 PM | Comments (0)
Co-Operation
Encoding Memory and Mouring
For Natalie Loveless' 4th performance-based wall-drawing installation--Co-Operation--she is fasting and isolating herself in the Bromfield Art Gallery. During this time her contact with the outside world will be mediated through instant messaging technologies. You are invited to communicate with her from December 28th – January 1st, between 5 am and 12 am (EST), through either Yahoo or MSN (handle:bromfield_co_operation).
Please share your stories of mourning, memory or memorials; these will be used to generate this installation. Your communications will be encoded across the gallery walls through a silverpoint graphing system based upon the spatial organization of our primary mediating mediating technology: the computer keyboard.
Posted by jo at 12:57 PM | Comments (0)
Louisiana Walk #14
Real and Fabricated Collage
Louisiana Walk #14--by Janet Cardiff--is a 13 minute binaural audio piece that guides participants through the sculpture park of the Louisiana Museum, (Denmark) with a walkman. The audience member listens to a collage of sounds that shift from what is perceived to be the actual sounds of the park to completely fabricated soundscapes. They also hear the sound of the body, footsteps, and voice of the person giving instructions and thoughts. The use of the headset and binaural sound creates an eerie personal space that the listener enters into, almost as if entering into someone else's mind and body. Even though the format plays with that of the museum audio tour the listener finds out very soon that they have become part of a virtual space that hovers between a science fiction thriller and a personal journey.
Janet Cardiff was born in Brussels, Ontario, Canada, in 1957. She studied at Queen's University (BFA) in Kingston and the University of Alberta (MVA). She currently lives and works in Lethbridge, Alberta.
Her artworks, whether they are installations or walking pieces, are mainly audio based. She has been included in exhibitions such as: "Sculpture Projects", Muenster, 1997, "Present Tense, Nine Artists in the Nineties", SFMOMA, "NowHere", Louisiana Museum, Denmark, "The Museum as Muse", MOMA, Sao Paulo Bienal '98, 6th International Istanbul Biennial, The Carnegie International '99/00, "The Tate Modern Opening Exhibition" as well as a project commisioned by Artangel in London. Her work is included in private and public collections in Canada, the United States and Europe.
Janet is represented by Luhring Augustine Gallery, NYC, and Barbara Weis Gallery, Berlin.
(text from abbeymedia.com)
Posted by jo at 10:14 AM | Comments (0)
Confess
Web of Truth
Begun as a private experiment, New York-based artist Stewart Smith's Confess project soon took on a life of its own by virtue of its own logic: users sign up with anonymous accounts, and are given the opportunity to bare their souls into an internet confessional. In return, they are allowed to view the anonymous confessions of other users. Users can comment (again, anonymously) on what they view, and see the comments of others on their own secrets. The only control that the process has is a rating system; the 'better' one's confessions are rated, 'better' are the confessions one will see, setting up an addictive emotional economy. Sherman has kept the presentation deliberately minimal, giving the site a personality that is both earnest and vaguely unnerving, reflecting the ambiguous feelings provoked by impersonal honesty. The effect of sitting down in front of the screen and being asked to communicate without consequences is strangely powerful, and the results stir interesting thoughts about the fate of sincerity on the web. - Ben Davis, Net Art News, Rhizome, December 20, 2004.
Posted by jo at 09:00 AM | Comments (0)
almost certified (grade A noise for non-discerning consumers)
precarious egg-tapping robots
almost certified (grade A noise for non-discerning consumers) is a mechanical sound installation and informative publication by k.cain and b.crabtree. It is being presented by Machine Gallery until January 3rd 2005.
The piece consists of a distributed network of precarious egg-tapping robots. Each unit, individually amplified, features a select unconventional egg. calculated sequences emerge, conducted by beautifully rendered software on a resurrected mainframe (a sweet mac LC3). The result: a peculiar acoustic
spatial drum machine.
"we seek and impart knowledge, addressing alarming practices and trends in the egg industry. by promoting social consciousness we can live better through decentralization." [video]
Posted by jo at 07:54 AM | Comments (0)
SEVEN YEARS OF LOVE AS ART
WEDDING #1 WEB CAST
We, Elizabeth M. Stephens and Annie M. Sprinkle will explore love as art for seven years. Each year will be based on a chakra and begin with a wedding. Our first wedding via a live web cast was on Saturday, December 18, 2004.
The theme of the wedding was "security" and the chakra color was RED. We gathered with a few friends and family in a small performance space in Manhattan. Guests collaboratied in the creation of the wedding. (Please forgive us if you didn't get invited to this wedding in the flesh. We had very limited space, and there are 6 more weddings to come, so we would love for you to join us in the future. Next wedding will be in San Francisco.) Look at our web site for more information.
Posted by jo at 07:29 AM | Comments (0)
Towards Tomorrow?
Fundamental(ist)s of Performance
Towards Tomorrow?; 7-10 April 2005; Centre for Performance Research University of Wales, Aberystwyth, Wales, UK; theatre X performance.
As The Centre for Performance Research (CPR) celebrates thirty years of work, this conference will build upon and extend the dialogues and debates that CPR has forged over its long journey from research laboratory to research centre.' Towards Tomorrow?' will examine the complex relation between performance and theatre: the past, present and future of 'performance' and 'theatre' and their aesthetic practices.
CPR's anniversary publication Testimony from the Future, Evidence of the Past will be launched at this gathering and a complementary publication is planned to emerge from Towards Tomorrow? with a range of international contributions that seek to reorient the discipline of performance and to demonstrate its increasing relevance in many areas of cultural studies, philosophy and the arts.
Call for x,y and z: (where z = Discussions, Provocations, Polemics, Experiments, Manifestos, Papers, Confessions, Screenings and Demonstrations)
As part of the programme of this event there will be panels addressing aspects of performance and theatre that relate to broad themes of risk and failure, the future and generations, events and institutions and practice as research.
There will be a 'platform, soapbox, and propaganda' station 'In Extremis: Fundamental(ist)s of Performance', for the promulgation and dissemination of extreme enthusiasms, radical obsessions, pristine lies and rotten truth. It will be a space to present ideas contemporary, anachronistic, contentious and conformist.
A programme of 'talk back' sessions are planned where artists and performers address scholars who have explored their work; reversing the direction of enquiry and facilitating dialogue between practice and criticism.
We encourage proposals to lead enquiries relating to the concerns of this event, either following the themes suggested below, or generating different areas of enquiry. Also proposals for individual presentations or papers within these panels are invited, each should include a 300 word abstract for a presentation of 20 minutes duration.
Possible themes may include:
'Before the age of Performance'
'Transformation/Transmission/Transmutation'
'The Weave of Performance'
'Staging Play: The Future of the Field'
'And where were you on the evening of...?: Artists and Practitioners
interrogate Theorists'
'The Dangers of Failure: risking performance'
'Disturbing Performance'
'The Doing, Re-Doing and Undoing of Performance'
Please send proposals and/or abstracts, or register interest in 'talk back' or 'fundamental(ist)s' sessions by 10th January 2005, (we will respond by 24th January) to Dr Daniel Watt ,The Centre for Performance Research, Unit 6, Science Park, Aberystwyth, SY23 3AH, Tel: + 44 (0)1970 622133, Fax: +44 (0)1970 622132 dpw@aber.ac.uk
At this major gathering of key practitioners and scholars from around the world the conference programme will comprise:
Performances - from Wales, Europe and beyond
Expositions - understanding the state of play
Workshops - drawing from the crucible of cutting-edge practice
Panels and Debates - to challenge and cultivate new directions
Interrogations and Enthusiasms - Strategic 'open' sessions
Feasts - where food becomes event
Excursions - taking advantage of our local landscape
Towards Tomorrow?
Temporalities: Then, Now, To Come
Then: Theoretical discourse has structured and transformed the environments of theatre and performance. Towards Tomorrow? provides a FORUM for both a critical reflection on performance and the nature of cultural theory and to assess its future both beyond and within the academy.
Now: The event of performance, its practice and presence will be explored. There will be OPPORTUNITIES for practitioners to interrogate theorists and for the statement of radical agendas and manifestos.
To Come: The development of the future of the field belongs to another GENERATION. This gathering will not determine such a future, but it will be determined to keep open all possible transformations, evolutions and revolutions that may be on their way.
Trajectory
Towards Tomorrow? will explore the relation between theatre and performance, risk and failure, events and institutions to understand how the possibilities of performance, and the history of organisations such as CPR, might be considered?
Is there a fractal structure (a finite area bounded by an infinite distance) to the discipline, its manifestation as practice and its future, as yet unknown, transformations? What are the issues of survival: of a discipline and its practice, its organisations, and the relationship with the academy?
How does the spiritual aspect of performance - space, body, time and imagination - integrate and challenge both the formal and the theoretical articulations of work? Does such a consideration generate its own eschatology; if so, what is the apocalypse of performance?
Some Operations.....
Towards Tomorrow? includes In Extremis: Fundamental(ist)s of Performance a 'platform, soapbox, and propaganda' station, for the promulgation and dissemination of extreme enthusiasms, radical obsessions, pristine lies and rotten truth. A space to present ideas: contemporary, anachronistic, contentious and conformist.
Towards Tomorrow? will offer a programme of performances and workshops alongside numerous presentations of archive photographic and video material from theatre companies and performers from across the world.
The schedule for each day will include KEYNOTES (confirmed contributors include: Philip Auslander, Guillermo Gomez-Pena, Jane Goodall, Dragan Klaic, Michal Kobialka, Jon McKenzie, Susan Melrose, Marion Pastor Roces, Freddie Rokem, Rebecca Schneider and Stelarc), PANEL SESSIONS, a PRACTICAL or RESEARCH ENQUIRY element and the opportunity for artists and performers, from key phases of experiment over the past 40 years, to 'talk back' to theorists and commentators who have addressed their work.
Questions of tomorrow must also be concerned with generations, the potential of youth and the energy and vitality it will provide performance in the future. Towards Tomorrow? will include Generation24. Our panel of young practitioners of the future, from schools and colleges in Wales and internationally, who will observe and intervene in the proceedings with the interruptive urgency of the future's call.
Continuing the CPR tradition for high quality events staged in an individual way
Throughout the event care is taken to forge links between people and ideas and to create formal and informal opportunities for people to exchange information about current and future projects. CPR's long history of bringing together international performance practitioners and scholars in a potent spirit of debate/friendship, argument/opposition also serves as the occasion to highlight and focus work at the forefront of future developments in the field.
30 + 10: Throughout 2004/5 CPR will be celebrating 30 years of work and 10 years in Aberystwyth.
Antony Pickthall
Marketing & Development Director
Centre for Performance Research (CPR)
6, Science Park, Aberystwyth, SY23 3AH
Tel: +44 (0) 1970 621571
Fax: +44 (0) 1970 622132
E-mail: aop@aber.ac.uk
www.thecpr.org.uk
For the curious...opening up worlds of performance
Posted by jo at 07:18 AM | Comments (0)
December 27, 2004
rand()%commissions
Generating Randomness
rand()%, in partnership with The Media Centre, Huddersfield (UK), is pleased to announce the first in a series of commissioned generative audio works. The idea was to commission new works specific to rand()% which explore randomness and generative music composition.
The first commission is from Alku and comes in the form of several works tying together their Formatissimo series and culminating in their installation e+ included in our rand()%lab exhibition. ALKU: Formatissimo I+II, e+ http://www.r4nd.org/c_alku.html
The second commissioned piece is by Dextro. This includes several modified pieces from the recently released Dextro: A / Turux - b CDRom and a new automatic work entitled m000.dxr.DEXTRO: m108_rand_A, m108_rand_B, m108_rand_D, m000.dxr http://www.r4nd.org/c_dextro.html.
To hear these works please check the daily schedule.
Posted by jo at 05:01 PM | Comments (0)
netzwissenschaft
Emerging Infrastructures of All (Inter)net Research
Dr. Reinhold Grether's network research | netzwissenschaft site maps the "emerging infrastructures of all (inter)net research endeavours. net.science as an anthropology of connectivity is trying to overcome the constraints of specialist method transfers on net matters. the protuberance of technical networks necessitates a professionalization of human net knowledge. neither the isolation of concepts as in basic research nor the encapsulation of processes as in applied sciences will ever be able to adequately describe the complex autopoiesis of networks. net.science is undoubtedly developing into a scienza nuova of its own right."
Check out his Mobile Art and Virtual Performance research areas.
Posted by jo at 04:45 PM | Comments (0)
Performing Art Performing Science:
Transdisciplinary Approaches to Performance
The Performing Art Performing Science: Transdisciplinary Approaches to Performance conference will take place at the School for the Contemporary Arts, Simon Fraser University, Vancouver, BC, Canada, June 16-18, 2005; DEADLINE FOR PROPOSALS: March 1, 2005.
The conference seeks to redefine performance according to some of its earlier disciplinary roots in the arts and sciences. In the arts, performance has traditionally implied a staged activity or presentation using a specific disciplinary form like dance, music, and theatre. In the sciences, it has often meant the efficient operation of mechanical and/or technological systems and prototypes in specific goal-oriented tasks. How can a transdisciplinary perspective communicate new knowledges emerging at the intersection between disciplines and how can this alter our approaches to performance as a unique phenomenon?
We are seeking proposals that formulate key questions about transdisciplinarity and performance. Some possible topics might include: contemporary trends in dance, new media and performance; new visualization technologies; competing and complementary notions of performance; emergence and artificial life science; performance of self-organizing systems; genetic engineering; embodied knowledge; computing machines and the evolution of culture; new epistemologies emerging at the intersection of the sciences, arts, and humanities; disciplinary encroachment; new transdisciplinary curricula; the impact of infrastructure and resources on research directions; the survival of performance disciplines in contemporary hypermedia and mass media contexts.
Contributions may take a variety of forms: academic papers, artistic performances, scientific demonstrations, short workshops, installations, combinations and transformations of traditional conference formats, or new models for transdisciplinary dialogue.
DEADLINE FOR PROPOSALS: March 1, 2005. Early applications are encouraged.
Proposals should include the title of your contribution, the type of contribution (paper, performance, etc.),a 200-300 word abstract describing the project, estimated running time, and a list of any specific space or technical needs. For contributions involving more than one presenter, please include a list of collaborators and their affiliations. Please note that conference funds are limited, at best, so let us know what you need to bring your work to the conference.
Proposals can be submitted online through the TransNet website or sent to:
christine stoddard
Research Assistant, TransNet
School for the Contemporary Arts
Simon Fraser University Burnaby, BC V5A 1S6
Canada
tel: 604.291.3896
fax: 604.291.5907
email: cpstodda@sfu.ca
Transnet website: www.sfu.ca/transnet
Posted by jo at 04:04 PM | Comments (0)
December 25, 2004
Mother, Child
Virtual motherhood

"Mother, Child", by Finnish artist Heidi Tikka, is an interactive video installation that intends to recreate the astonishment a mother feels when holding her baby.
The projection of a nursing child is projected on a piece of white fabric held by the exhibition visitor. The point of view from which the child is being seen is the mother´s. Mediated by camera sensors and algorithms, the image of the baby responds to the movements of the "mother" and the people surrounding the space. If there is a lot of movement or if the place is too crowdy, the child becomes restless and starts to cry. The person holding the fabric can gently rock the baby back to sleep.
The work addresses the challenge that the contemporary interactive technology posits on subjective experience and its representation. It also raises the issue of the social dimension of care. (Posted by Régine Debatty)
Posted by Regine at 07:24 AM | Comments (0)
December 24, 2004
Performing the City for Social Change
Using Performative Techniques to Get a City Under Control
The former Mayor of Bogotá, Antanas Mockus, is featured in this article in the Harvard Gazette archives. Mockus became well known and loved for his experimental approach to governing the city. His techniques included: employing mimes to shame jaywalkers and dangerous drivers, as pictured on the left; distributing "thumbs up" and "thumbs down" cards so that citizens could critique each other's actions without engaging in a war of words; and creating a "Night for Women", where women went out on the town and men were asked to stay home or carry "safe conduct" passes.
Mockus' intriguing methods acknowledge that existing in public is a kind of performance, and this acute sense of being an actor in public is exactly what makes the mimes who shame you for jaywalking work - social pressure inspires us all to be better performers, and citizens. (Posted by Michelle Kasprzak)
Posted by at 12:51 PM | Comments (0)
Art Mobs
Creating a Meta-Dialogue
The Art Mobs project, created by Dr. David Gilbert and students from Marymount Manhattan College, allows users to share their art experiences using a mobile phone or iPod.
Using the text messaging features of mobile phones, users leave comments about works of art for others to read. With an iPod, users listen to guided tours of art exhibits created by anyone who has an opinion about the show. Users are also invited to make their own tours for others to listen to.
The project should be lauded for encouraging people to be more active when attending art events in galleries and museums. The Art Mobs project takes advantage of the widespread use of mobile phones and portable MP3 players, making them devices for distributing information and connecting gallery goers, which is a nice counterpoint to the frequently-posed argument that these devices are socially isolating.
Watch a demo video here. (Posted by Michelle Kasprzak)
Posted by at 12:17 PM | Comments (0)
Power to the People
Public Play
"P2P" by Matt, Susan, and Robert Gorbet, is a performative installation consisting of a marquee of light bulbs installed on the face of a public building and a switch panel on a nearby sidewalk. Each switch controls one corresponding bulb on the marquee.
The switch panel is an open invitation of expression extended to the general public, and each time it is installed it creates a new social experiment. Some members of the public engage in competitive games with each other, "chasing" each other around the marquee; others choose to write their name, or word slogans ("Peace," "H", "F U", "Weed", etc.), or draw small pictures. Some messages are indecipherable or benign, others cause a few raised eyebrows.
This installation is fun to interact with, and it is just as fun to watch others interacting with it, which is a rare experience indeed. Past installations of P2P include one on the face of Kitchener City Hall, in Kitchener, Canada, and on the face of the Drake Hotel, in Toronto, Canada. Check out more work by the Gorbet Design collective at their website. (Posted by Michelle Kasprzak)
Posted by at 11:02 AM | Comments (0)
White Square
Interactive shadows
When a person steps in the White Square of light, shadows appear circling around him/her. These interactive shadows projected around the feet make contact with other shadows in the square. People can play together with collaborative visual structures created by shadows reaching and grabbing onto each other. The shadow world creates a reflecting surface of positions and movements done by people in the square.
The human shadow is transformed into an interactive medium. The installation, created by Helsinki-based artist Hanna Haaslahti, illuminates the network of connections between people sharing the same limited space. White Square tries to break the control and command-relationship people have with technology into a more intuitive and physical one. This kind of public playground aims to stimulate a new awareness of ourselves as a physical being. White Square can also be seen as a media architectural space, which enchants people to move and express themselves, subtly using their body as a tool of interaction. (Posted by Régine Debatty)
Posted by Regine at 09:51 AM | Comments (0)
Telematic Dinner Party
A menu of food and electronics
During the experiment that Jeff Mann and Michelle Teran made of the Telematic Dinner Party, conversations between the table guests in Amsterdam and Toronto were mediated by streaming media and networked kinetic objects. So, for example a clinking spoon or glass in Amsterdam could produce a slamming door in Toronto.
The dinner table was turned into a physical platform for networked media supports live video streams, tele-robotic talking fish, gourmet cooking, singing chandelier, Keystroke media mixing, wine-pouring machines, telematic toasts, party games, etc; linking two dining rooms and thirty dinner guests across the ocean in a mediated mechatronic middle-space for social interaction.
Throughout the meal, the guests made toasts and speeches using the sensored and motored wine clinking devices. Everybody played games with food, cutlery, and chef attire to create interesting and coordinated video feed. After the first course, people changed seating arrangements to have access to all telekinetic props and streams distributed across the table. A coordinated storytelling game was played using the audio stream with the guests in Amsterdam. Finally, a punk magician performed for those physically and virtually present. (Posted by Régine Debatty)
Posted by Regine at 02:28 AM | Comments (0)
Autopoiesis
Artificial life robotic sculpture installation

Ken Rinaldo's Autopoiesis consists of fifteen robotic sound sculptures that interact with the public and modify their behaviors over time. These behaviors change based on feedback from infrared sensors, the presence of viewers in the exhibition and the communication between each sculpture.
The robotic sculptures talk with each other through a computer network and audible telephone tones. The interactivity engages the viewer/participant who in turn, effects the system's evolution and emergence. This creates a system evolution as well as an overall group sculptural aesthetic.
The robotic sculptures communicate with a musical language that gives the viewer a sense of the emotional state of the robots as they interact. Higher and more rapid tones are associated with fear and the lower, more deliberate tonal sequences with relaxation and play. Other tones give the impression of the sculptures whistling to themselves. (Posted by Régine Debatty)
Posted by Regine at 01:09 AM | Comments (0)
December 23, 2004
Pocket Perspective
Telepresence Event 12-23-04
Eric Redlinger and members of the Parsons MFA Design & Technology Program will be presenting Pocket Perspective, an interactive, online telepresence performance from 10:00am to 12:00pm on the morning of Thursday, December 23rd. All are invited to contribute audio, visual, and text media derived from the contents of your pockets. The live performance can be experienced in person or online.
Via Rhizome. (Posted by Régine Debatty)
Posted by Regine at 12:39 AM | Comments (0)
December 22, 2004
Real Remote Guided
Controlled by web users

Real Remote Guided, by Antonio Lomas, features a subject who is "blinded" while the spectators / speakers on the internet and in the physical space, are able to see what the subject could see in normal circumstances.
GPS and web cam are combined with a laptop linked to the net through telecomunicaton systems (cellular telephony and/or wireless).
On the web page, the web guides see the images from the camera worn by the artist, as well as map images that define his location so that they can send him instructions, guiding him through a space of real intervention. The artist can only see the instructions sent by the users and the map images of the GPS system.
The idea is to represent, in a playful way, how new technological systems can take control. So, spectators are invited to take that control and to manage it. (Posted by Régine Debatty)
Posted by Regine at 03:01 AM | Comments (0)
Mimetic Starfish
Neural Net Sea Creature
Mimetic Starfish's Mimetic Starfish projects the image of a starfish onto a table, its tentacles extending to viewers' hands, if they move too quickly the tentacle suddenly retracts in a fluid but alarming manner.
Stroking a tentacle causes neural net activity to be displayed by muscular contractions and colour changes of the skin. The Starfish through illusion and mimicry fools us into thinking that it is aware of our presence. Its movements are organic and convey a sense of aliveness. It is an example of Artificial Life that encapsulates ideas of magic and technology, art and science, philosophy and cognition. (Posted by Régine Debatty)
Posted by Regine at 02:49 AM | Comments (0)
December 21, 2004
Remote Furniture
Computer controlled chair objects
The Remote Furniture , by Noriyuki Fujimura (J), are two chairs that have a tilt sensor and a linear motor, and are connected to a PC running control software.
When someone rocks one of the chairs, the tilt sensor detects the inclination and transmits the data to the other chair through the PC. The motor in the other chair than causes it to rock. The aim of "Remote Furniture" is to create direct and tactile touch. When exhibited in public spaces, the artwork seemed to help remove people's shyness and triggered new funny and tactile ways to communicate. (Posted by Régine Debatty)
Posted by Regine at 02:45 AM | Comments (0)
Healing Series
Encounters that leave scars
Brian Knep's Healing Series are interactive floor pieces that change in response to visitors. When a piece encounters a foreign body, such as a gallery visitor or an object, the pattern pulls away, creating a wound. When the foreign body leaves, the pattern heals itself and the wound closes, but each piece heals itself in a different way.
In Healing #1 the sides of the wound never actually touch, a scar forms, like a memory of the meeting of the visitor with the mat. Healing #2 has the mat oozing over the wound caused by the interaction. The mat heals itself until only the essence of each scar is left. Eventually this essence also disappears, leaving a glowing mat. In Healing #3 the reaction is more violent, with the pattern pulsating and quickly reforming over the wounds.
The pieces ties to illustrate the changes that happen when things or people interface with each other. The contact causes changes in all participants, and so has a destructive quality, but change forces growth too, and so has a regenerative quality.
The work is part of the Intimachine exhibition that runs at Art Interactive (Cambridge, MA) till Jan 30. (Posted by Régine Debatty)
Posted by Regine at 02:42 AM | Comments (0)
December 20, 2004
S.S.S
Laptop and body performance
S.S.S is a trio -- Cécile Babiole, Laurent Dailleau, and Atau Tanaka -- performing visual music with sensors and gestures. They create a work of sound and sight, a laptop performance enriched by the intensity of bodies in movement.
Sensors capture gesture and corporeal movement, translating them into digital data:
- Ultrasound sensors measure the distance between the performer's hands and her machine, allowing her to articulate 3D imagery, navigating in color, scale, texture…
- The Theremin, an oscillator invented in 1919, responds to perturbations of electrostatic fields based on the distance of the hands and body to the instrument.
- The BioMuse places gel electrodes on the performer's forearms, analyzing EMG biosignals. Muscle tension through concentrated movement allows the musician to sculpt sound synthesis. (Posted by Régine Debatty)
Posted by Regine at 01:00 AM | Comments (0)
CCTEX
Mass observation game
CCTEX, by British artist Tom Betts, is based on the game modification and the cctv and mass observation technologies.
The environment that the user experiences is coated in imagery drawn from webcams positioned around the installation space. Streaming video of the audience and gallery space are translated into textures that paint the modified game architecture. The textures are manipulated to create a semi-abstract reflection of the users' space outside the machine. The viewer is confronted with a distorted vision of themselves and their environment as they interact with the work.
The data source is drawn directly from the users behaviour and the physical space outside the machine. The increase of covert surveilance is a familiar trend but rarely is the audience of such observation permitted to see their performance onscreen. Not only does CCTEX present the user with their own captured image but it also demonstrates how such data can be distorted and manipulated.
CCTex is exhibited at the Seoul International Media Art Biennale until February 6, 2005. (Posted by Régine Debatty)
Posted by Regine at 12:38 AM | Comments (0)
December 19, 2004
Disembodied Voices
Irritating mobile phone conversations
"Disembodied Voices", by Santa Monica-based artist Jody Zellen, leads the viewer through a series of experiences exploring the global phenomenon of cell-phone conversations, those half public, disembodied conversations have become a ubiquitous irritant in our society.
Five dynamic animations fill the walls. Four of these animations are DVD projections that depict individuals moving through public spaces, unaware of their surroundings because they are intent on their cell-phone conversation. At the bottom of each projection are fragments of text that represent the monologue. The texts intersect physically as the viewer reads across them. The fifth projection is connected to a computer and contains the interactive component of the installation. Visitors to the space trigger a series of sounds by interacting with 'toy' cell-phones that hang from the ceiling. All the buttons on the phones are programmed to trigger an event on the wall. Using the 'toy' phones causes the icons on the wall to grow from their diminutive silent state to a larger brighter version with sound. The voices reflect the global nature of cell phone usage as the conversations take place in numerous languages: French, Spanish, Japanese, Indonesian, Cantonese, as well as English. When all ten phones are active the experience is a sound collage, a cacophony of overlapping icons and voices. (via rhizome) (Posted by Régine Debatty)
Posted by Regine at 02:34 AM | Comments (0)
December 18, 2004
The Living Room
A narrative installation puzzle
"The Living Room", by American artist Victoria Fang, is a narrative puzzle installation. Players enter a space containing 3 rolling units with screens in them and 21 clues painted on the floor. They have to move panels with LCD monitors to solve a whodunit murder mystery. Correctly positioning the units triggers filmed scenes that play back across the three separate panels, and these scenes give the player new clues to trigger the next scene. Players get a different spatialized experience with each scene, as the scenes are constantly changing position, thus working as a giant physical puzzle that houses a narrative puzzle.
This project is designed as an entertainment experience that focuses on the cathartic release of built-up emotional tension, through the use of mobile and wireless technology.
"The Living Room" has received a nomination for Transmediale award 2005.
(PDF of the project) (Posted by Régine Debatty)
Posted by Regine at 12:31 PM | Comments (0)
December 17, 2004
Cathartic User Interface
Computer frustration
Perry Hoberman 's Cathartic User Interface (CUI) allows people to express their emotions toward modern technology, by throwing mouse-like rubber balls at a wall filled with obsolete PC keyboards, which in turn triggers projections and sounds that are modified versions of the typical computer error messages.
The balls roll down a ramp at the base of the keyboards and return to the user. Effectively channeling the thoughts one feels when encountering a "file not found" or "web page has expired" message into physical action, CUI comments upon the growing love-hate relationship with technology and the inevitable "glitches" that occur, even as computers increase in speed and complexity. (Posted by Régine Debatty)
Posted by Regine at 03:07 PM | Comments (0)
The Table: Childhood
Relationship with a table
The Table: Childhood 1984-2001, by Max Dean and Raffaello D' Andrea, is a robotic table that selectively interacts with persons who enter the room, but it will choose only one viewer among them. As long as that visitor stays, he or she will be the object of the table's attention.
The table monitors the visitor's physical reactions. If that person is unresponsive, Table tries harder: it might initiate an action enticing the viewer to copy it or turn on its axis with a pirouette; it might decide to chase – or even to flee. Once some kind of relationship is established, the table determines how to handle the situation, whether lyrically or aggressively.
The Table switches the roles of viewer and object. The artwork and not the viewer is in the position of choice. This in turn focuses the attention of other viewers on one particular visitors, making that person the "object" of attention.
(video) (Posted by Régine Debatty)
Posted by Regine at 11:22 AM | Comments (0)
(t)error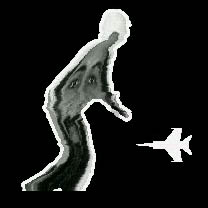 Video game activism
(t)error, by Robert Praxmarer, is an interactive mixed reality arcade game where the player, physically represented in the game by his shape, is the interface to control the game. He has to jump and cower to avoid the fighter planes and tanks or submarines attacking him, and he also has to grab dollar signs and oil pumps etc. to get a good score.
He chooses his character in the beginning of the game, for example George W. Bush, the nations contributed in Iraq war, the nations of the axe of evil, etc. people and countries that you would connect to terror.
Via Neural. (Posted by Régine Debatty)
Posted by Regine at 03:01 AM | Comments (0)
December 16, 2004
Aura
The stuff around the stuff around you
"aura", by British artist Steve Symons, is a full sonic augmentation of real space.
Wearing headphones and carrying a backpack containing a PDA programmed to access his/her location and heading, the user navigates the augmented "aura" world that blurs the real space and artistic intervention. Sounds stay fixed, so the user is able to map or identify particular sounds with features in the real world.
Probably the best metaphor for an aura sound world is to imagine walking through an array of invisible audio speakers suspended in space. Each speaker represents a sound node and emits different audio depending on where you, the user, is situated in relation to it. (Posted by Régine Debatty)
Posted by Regine at 11:24 AM | Comments (0)
Drift
Elastic time and space telescope
drift , by Australian digital media artist Alex Davies (in collaboration with with Daniel Heckenberg), is a sightseeing telescope allowing the viewer to elastically manipulate time and space. This site specific installation was presented on a cruise boat for ISEA 2004.
The telescope features a realtime 180 degree panorama of the scene. Looking through the telescope to the front of the craft provided a real-time depiction of the scene. But as the telescope was panned around towards the rear, time stretched and slowed enabling the user to examine the environment with considerable detail. Panning further towards the rear, time not only slows, but reverses, drifting back over the previous journey.
Just as our own memory is not completely under our control, the telescopic views became smeared and distorted as the dimensions of time and space interfered. (Posted by Régine Debatty)
Posted by Regine at 04:36 AM | Comments (0)
A fleur de peau
The body as a sound installation
In her sound installation called "A fleur de peau", German artist Lynn Pia Pook invites the recipient to an individual experience of sound transmission.
The participant is equipped with ribbons around head, torso and limbs as well as hands and feet. In these ribbons are 16 speakers without a membrane.
A composition is played that is almost inaudible without the sound suit.
Through the speaker system attached on the body, sounds and their vibrations become sensible. This way, a transforming sound sculpture is composed on and in the body of the recipient.
The sounds move along the body from speaker to speaker and are transmitted only through the bones to the ear and can thus be heard "inside" the body.
During the installation of the work, musicians and composers are invited to test the installation as an instrument and interface and to develop together with the artist the possibilities of her sound suit (more images.) (Posted by Régine Debatty)
Posted by Regine at 01:58 AM
December 15, 2004
Spatial Sounds
Just don't get too close!
Spatial Sounds (100dB bei 100km/h), by Dutch artists Marnix de Nijs and Edwin van der Heide, is an engine-powered installation with a speaker mounted onto a several meters long rotating arm.
The loudspeaker holds sensors and constantly scans for the public in the room like a radar. This information is processed by a computer that sends sound effects back to the loudspeaker, and in turn these sound effects react to the presence and movements of the watchers. The more the public plays with the installation, the more active it becomes. But if the public interacts in excess with the system, the system goes wild and begins to rotate at a speed that can reach 100 km/h. A deafening sound and the airflow created by the centrifugal movement of the loudspeaker make the public step away.
"Spatial Sounds" reminds us of the engaging attraction we feel towards our technologies and how physically and emotionally vulnerable we are to those powerful devices that are everywhere and have been created by us. (Posted by Régine Debatty)
Posted by Regine at 10:43 AM | Comments (0)
Gravicells
Experiencing gravity
Japanese artists Seiko Mikami and Sota Ichikawa's work, Gravity and Resistance - Gravicells , makes our bodies aware of the interactions between gravity and resistance.
Moving inside the installation space, participants can feel gravity on their bodies and its resisting force. They can also sense the forces that other participants cause.
In the center is a 6m x 6m floor with a built-in sensor. All movements and changes made by participating visitors are transformed into the movements of sound, light (LED) and geometrical images through the sensors, so that the whole space develops or changes in this interactive installation. The installation is surveyed by GPS satellites, so it has the observatory point outside the earth. (Posted by Régine Debatty)
Posted by Regine at 03:35 AM | Comments (0)
Guest Blogger
Welcome Régine Debatty
Régine Debatty was born in Belgium and has lived in Spain and England. Although she trained as a teacher of Latin and Ancient Greek, she has worked as a journalist, TV documentary director and, currently, a new media consultant for a multimedia and virtual reality park in Turinis, Italy. Régine hopes that, one day, she'll be able to make a living from her passion for blogs. Besides her own blog, Near Near Future, she contributes to core77 popgadget , smartmobs, and worldchanging, and is the occasional blogsitter of Emily's textually and picturephoning. (Posted by Régine Debatty)
Posted by jo at 02:03 AM | Comments (0)
December 14, 2004
Digital Communities 2005
Urban Conference: Digital Communities 2005
Papers due Feb 2005
Digital Communities is an international network of scholars, policy makers, and urban analysts who share an interest in the relationship between information technologies and urban life.
The Digital Communities conference in 2005 is in Benevento and Napoli, Italy.  The conference will explore a wide range of themes associated with information technology, the knowledge economy, technology policy, and the significance of place in cyberspace.  Of special interest is the experience of locations within the Mediterranean region.  If you would like to participate by presenting a paper or organizing a session, please read the conference details listed in the call for papers. 
Digital Communities 2005 is led by Maria Paradiso (Università degli Studi del Sannio) and organized in collaboration with Michigan State University   (Mark Wilson, Kenneth E Corey), the IGU Commission on the Geography of Information Society (Aharon Kellerman, University of Haifa ; Henry Bakis, University of Montpellier III ) and the Journal of Urban Technology (Richard Hanley).  
Digital Communities 2005 is supported by RCOST-Research Centre on Software Technology, Centro di Competenza ICT, MARS-Mediterranean Agency for Remote Sensing and Università degli Studi del Sannio. (Posted by Michelle Kasprzak)
Posted by at 09:39 PM | Comments (0)
Biophilia
Connections
Mark Cypher's Biophilia* installation enables participants to interact with and generate organic forms based upon the distortion of their own shadow. The shadow resembles the participant and represents the relationship s/he has with the screen. At once reduced to a 2 dimensional image which menacingly begins to merge with other organisms in the same screen space without consent nor care for the sovereignty of the users concept of self and space. Have a look at the impressive video. The work will be shown at the John Curtin Gallery in February 2005 as part of the Perth International Arts Festival (Australia).
*The word biophilia refers to the need of living things to connect with others – even those of different species. [Originally blogged by Regine on near near future]
Posted by jo at 03:10 PM | Comments (0)
Where on-line meets on the streets:
experiences with mobile mixed reality games
"We describe two games in which online participants collaborated with mobile participants on the city streets. In the first, the players were online and professional performers were on the streets. The second reversed this relationship. Analysis of these experiences yields new insights into the nature of context. We show how context is more socially than technically constructed. We show how players exploited (and resolved conflicts between) multiple indications of context including GPS, GPS error, audio talk, ambient audio, timing, local knowledge and trust. We recommend not overly relying on GPS, extensively using audio, and extending interfaces to represent GPS error." From M.Flintham, R.Anastasi, S.Benford, T.Hummings, A.Crabtree, C.Greenhalgh, T.Rodden, N.Tandavanith, M.Adams, and J.Row-Farr (2003). Where on-line meets on the streets: experiences with mobile mixed reality games. In Proceedings of the conference on Human factors in computing systems, pages 569–576, Florida, USA. [via pasta and vinegar]

Posted by jo at 02:53 PM | Comments (0)
The Bench that Became Confused
Restless Piece of Furniture
With this installation, Finnish artist Lotta Partanen wanted to study the possibilities of interaction between the physical presence of a human being and a rigid piece of furniture.
When we meet new people, it is sometimes hard to predict how they will turn out to be in the long run. Partanen has tried to replicate the same kind of behavior in an looking bench. As an unsuspecting person seats himself on the bench, an audio starts with the voice of a man telling about his life and the story goes on uninterrupted until the end, if the participant sits passively. But if the one seated moves or if the number of sitters varies, it reflects to the flow of the story and the man starts to become confused. The more activity there is in the use of the bench, the more the man's story is in contradiction with itself.
Posted by Regine at 12:06 AM | Comments (0)
December 13, 2004
Unconscious Flow
Virtual Mermaids Capturing Our Emotions
In face-to-face communication and to abide by social norms, we sometimes have to lie: put a big smile on our faces instead of bursting into tears or greet visitors warmly when we are in a bad mood. But, the signs that our bodies express as communication (body language) can betray us.
Unconscious Flow, by Japanese artist Naoko Tosa, tries to capture human emotions and use them as an element in a machinic interaction. The work measures the heartbeat of the "honest" body and uses other technologies to reveal a new code of non-verbal communication from a hidden dimension in society. It's what Tosa calls "techno-healing art."
Two computer-generated mermaids function as individual agents for two viewers. Each mermaid moves in sync with the heart rate detected by an electrode attached to the collarbone of its viewer. Then, using a system that calculates the mutual heart rate, both mermaids express hidden non-verbal communication.
Thanks to a camera that picks up hand gestures and a personal computer that analyzes the images, the synchronization interaction model is applied to determine the mermaid's behavior. For a high degree of synchronism, the agents mimic the hand gestures of their subjects, but for a low degree of synchronism, the agents run away.
If one mermaid agent touches the other, a pseudo-touch can be felt through the use of a vibration device. As for background sound, the heart sound of the subjects are picked up by an electronic stethoscope and processed for output on a personal computer.
Posted by Regine at 01:15 PM | Comments (0)
Instant City
Music-Building-Kit
Instant City is an installation--developed by Sibylle Hauert, Daniel Reichmuth, and Volker Böhm--that allows players at a table to create architecture using semi-transparent building blocks and in the process make different modular compositions audible.
A spotlight hangs over the table and under the glass game board are light sensors. Each arrangement of the building blocks establishes a filter dimming down the intensity of the spotlight. The resulting variations are registered by the sensor field under the glass plate. Each of these gray scale values corresponds to a particular parameter of the selected "instant city" composition. However, what is heard depends upon where the building blocks are placed, how high they are, how many are on the table, and the sequence in which they are used.
So far, eight musicians have produced special compositions which serve as the basic music building kits of instant city. Since the game doesn't have an aim or goal which one can follow, every action becomes a demonstration of the playing personality. With every block that the player plays, he betrays something about himself: some feel overwhelmed by the limitless possibilities; mathematically oriented players will try to proceed strategically while esthetes might want to build elegant constructions, etc. [originally blogged by Regine on near near future]
Posted by jo at 11:14 AM | Comments (0)
Sky Orchestra
Nocturnal Audio Landscapes
The Sky Orchestra project, by UK artist Luke Jerram--in collaboration with hot air balloon pilot Peter Dalby and composer Dan Jones--is an ongoing research project that explores how one can perceive an artistic experience while asleep. It is an experimental artwork bringing together performance and music to create visual audio installations within the air and within the mind.
Sky Orchestra are developing music specifically for sleeping people which is delivered out of the sky. Seven hot air balloons, each with speakers attached, take off at dawn to fly across a city. Each balloon plays a different element of the musical score creating a massive audio landscape. "Like whales calling in the ocean, the same sounds may be heard in quick succession passing from one balloon to another across the sky..."
Many hundreds of people experience the Sky Orchestra event live as the balloons fly over their homes at dawn. The airborne project is both a vast spectacular performance as well as an intimate, personal experience. The music is audible, both consciously and subconsciously, to all those in the balloon's flight paths. After each performance leaflets are delivered to homes and shops along the flight path and responses collected by email. A radio phone-in, is also arranged. The feedback affects the on-going development of the composition. (via near near future)
Posted by jo at 11:00 AM | Comments (0)
Petra Fagerberg's Publications
User-Centred Perspectives
Petra Fagerberg, Fredrik Espinoza, and Per Persson (2003). What is a place? Allowing users to name and define places. In Proceedings of CHI 2003, Fort Lauderdale, USA. [PDF]
Per Persson and Petra Fagerberg (2002). GeoNotes: a real-use study of a public location-aware community system. Technical report, (T2002:27), Stockholm, SICS. [PDF]
Persson, P., Espinoza, F., Fagerberg, P., Sandin, A. & Cöster, R. (2002). GeoNotes:A Location-based Information System for Public SpacesKristina Höök, David Benyon and Alan Munro (eds), Readings in Social Navigation of Information Space, pp. 151-173, Springer. [PDF]
Petra Fagerberg (2002). Social Navigation in a Location-Based Information System, Masters Thesis, Numerical Analysis and Computer Science, Royal Institute of Technology, Stockholm, Sweden. [PDF]
Posted by jo at 10:32 AM | Comments (0)
e-Performance and Plug-ins
A Mediatised Performance Conference
e-Performance and Plug-ins: A Mediatised Performance Conference; December 1 and 2, 2005; The School of Media, Film & Theatre, University of New South Wales, Australia.
Introduction: The hybrid phenomena created by new media performance-makers traverse a range of academic disciplines and approaches from philosophical enquiry into the ontology of liveness to the very technical and logistical questions of performance in a mediatised environment under diverse conditions of actualisation.
Some performance theorists have questioned the notion of liveness by asking 'How is the liveness of the performance changed when it occurs within the spaces of technology?' Others have discussed the phenomenon of Internet use as 'performance on-line' and have used terms commonly found in new media discourses, such as 'posthuman', 'virtual bodies', 'embodiment' and 'telepresence'. Yet others draw upon Lacanian film theory in their analysis.
This symposium will address the range of these extant approaches and seek new discourses with which to talk about this emergent area of study. It is intended as a forum for cross- and multi-disciplinary investigations of issues around media/technology-based performance. Paralleling the diversity and range of artistic and theoretical approaches to media-based performance, conference contributors will present multi-modally, including live video interventions by speakers outside Australia, live performances, as well as presentations of scholarly papers and practice-led research.
Areas of enquiry: In developing their submissions, delegates are asked to address one or more of the following areas of enquiry:
» What terminology is appropriate to the discussion of mediatised performance? Is the traditional language of performance studies, terms such as 'dramaturgy' or 'ritual', helpful in discussing media/technology-based performance? Or are information-technology terms such as 'interface' and 'interactivity' more useful?
» What are the key challenges arising in collaborations between theorists from different disciplines when discussing live performance in a mediated matrix?
» What issues, for both critic and practitioner, lie at the nexus of theory and practice in digital performance?
» What are the epistemological differences between a virtual performance in a virtual venue (on the Internet and/or computer) and a new media 'live' performance in a theatre?
» Where exactly would a history of mediatised performance begin? What would that history cover, and what would it privilege? What is the future for mediatised performance?
Abstracts and proposals are invited in the following forms:
1. Scholarly Paper: A paper of 20 minutes duration, with time then allocated for questions and discussions (10 minutes). Papers should address an aspect of the conference's areas of enquiry as described above. Abstracts to be sent by 01 June 2005. (Response by 15 July 2005)
2. Presentation of Practice-Led Research: Artist/scholars are invited to submit proposals for a 20-minute theoretical discussion of their own art/performance works through documentation in relation to any of the conference's areas of enquiry. Abstracts to be sent by 01 June 2005. (Response by 15 July 2005)
3. Panel: Design, curate, and organise a panel which addresses any of the conference's areas of enquiry. Panel sessions will be two hours in duration and should include no more than four speakers in order to set a framework for discussion. Proposals including brief details of panel framework and speakers' contributions to be sent by 01 April 2005. (Response by 01 May 2005)
4. 'Live' performance: Proposals for a short 'live' media-based/intermedia performance (max. 20 minutes duration) may be submitted. Artists will be responsible for providing for the particular technical needs of their performances, while the conference organisers will provide a theatre venue with basic audio and visual equipment and Mac computers. The selected works will be showcased as an evening performance event. Proposals including technical requirements to be sent by 01 May 2005. (Response by 01 June 2005)
Please submit the following:
» An abstract (approx. 300 words) for Categories 1 and 2
» A proposal (approx. 800 words) for Categories 3 and 4 ß Your name, title, and professional affiliation
» A one-paragraph biography (no more than 100 words) for publication in the conference program
» An email contact address
» Technical requirements for your presentation (software/hardware)
Conference organisers:
Executive committee: George Kouvaros, Andrew Murphie, Ed Scheer
Advisory committee: John Golder, Su Goldfish, Clare Grant, Ross Harley, Moe Meyer
Enquires: Yuji Sone (Conference Coordinator) at y.sone @ unsw.edu.au
Dr Yuji Sone
Vice-Chancellor's Postdoctoral Fellow
School of Media, Film and Theatre
The University of New South Wales
Sydney 2052 Australia
Ph: +61 2 9385 4862
Fax: +61 2 9662 2335
Posted by jo at 09:30 AM | Comments (0)
Astro Black Morphologies
Sounds of Science
Flow Motion's Astro Black Morphologies is a multimedia installation and sound-art performance based in a dialogue between contemporary astronomy, digital art and electronic music. The installation takes as its starting point the announcement by scientists Ian McHardy and Phil Uttley at Southampton University in 2002 that data readings of x-ray detritus from black hole Cygnus X1 were implicitly musical in structure.
In 2003 Flow Motion (artists and musicians Eddie George and Anna Piva) began Sounds of Science, a research project on cosmic music and music of the cosmos, commissioned by the Arts Catalyst and funded by the Arts Council of England - London. Dr Uttley gave Flow Motion access to his research data from Cygnus-X1. They then collaborated with astrophysicist Tim O'Brien at Jodrell Bank Observatory, converting this data from text to audible phenomena.
The converted X-ray data of Cygnus-X1 will be immersed in the transformative technologies of dub production by Flow Motion and generative design by Adrian Ward at Signwave for a real and sonic time based sound-art which utilises the sound-structured detritus of a black hole and the detritus-producing technologies of electronic music and digital imagery. Astro Black Morphologies is the first of a three-part multimedia, cross disciplinary project, 'Music & Science Lovers'.
Posted by jo at 09:10 AM | Comments (0)
December 10, 2004
transmediale.05: BASICS
Multi-Media Performance Program
transmediale.05: BASICS Berlin, February 4 - 8, 2005, Haus der Kulturen der Welt: 1. Performances 2. skoltz_kolgen (ca): 'FLUUX:/TERMINAL' 3. Usman Haque (uk): 'Sky Ear' 4. Yannis Kyriakides, HC Gilje (nl/de); 'Lab Fly Dreams' 5. Christian Ziegler (de): 'turned' 6. Umatic (nl): 'ResonanCITY' 7. Venzha & the House of Natural Fiber (idn): 'CAUS#3' (citizen against UFO secrecy #3)
1. Performances: The international media art festival transmediale.05 puts a new focus on multi-media performances. Artists' collaborations using real-time video and combining it with dance, electronic or unplugged music will perform at the grand opening and the consecutive nights at Berlin's Haus der Kulturen der Welt (HKW). Related performances within the series 'Live Cinema' can also be experienced at the club transmediale (Maria am Ostbahnhof).
2. skoltz_kolgen (ca): 'FLUUX:/TERMINAL'
'FLUUX:/TERMINAL' is a bipolar performance that skoltz_kolgen have named 'Diptyque Retinal'. As in all of their work, here their research has established a point of contact between sound and image. But 'FLUUX:/TERMINAL' pushes the dialogue between these two elements one step further: their performance creates a dramatic trajectory, fuelled by the panoramic tensions (left/right) between hearing and seeing.
Opening: Thu 3.2. 19 hrs, and Fri 4.2. 20.30 hrs (HKW)
3. Usman Haque (uk): 'Sky Ear'
Helium filled balloons with built-in, ultra-bright LEDs form a cloud which moves around in the sky at 100m. This balloon-formation reacts to the changing electro-magnetic fields that are created by distant storms, police and traffic radio waves or television transmittals, which change the colour and colour-intensity of the balloons. Through countless variations of colour, 'Sky Ear' demonstrates the invisible topography of the electro-magnetic field which permanently surrounds us. The glowing cloud not only shows the extent to which natural electromagnetism penetrates our environment, but demands that the audience interact with the electromagnetic fields. Mobile telephones are embedded in the balloons. By telephoning into the 'Sky Ear' the audience is able to see how the local magnetic field is changed by telephone activity. Thus, our daily interaction with electromagnetic fields is rendered visible. [Related 1, 2]
Opening, Thu 3.2. 21 hrs (HKW)
4. Yannis Kyriakides (nl), HC Gilje (no/de), Claire Edwardes (au/nl); 'Lab Fly Dreams'
Lab Fly Dreams (or 'Dreams of a Jet-Lagged Fruit Fly') is a collaboration of composer Yannis Kyriakides and visual artist HC Gilje. It is a homage to the suffering fly, whose sleep patterns are studied by geneticists the world over in order to understand the workings of our own circadian rhythms. They are subjected to all manner of disorientating sleep environments, such as keeping them awake by tapping whenever the insects stays still for more than a minute. What do these flies dream of in their plastic containers? Originally written as a BBC commission for the Icebreaker Ensemble (uk) and Orkest de Volharding (nl), this reduced version turns the piece inside out and is scored for solo percussion and 8 channel electronics. The video is performed live, mainly based on found footage from lab fly research, creating a fruit-fly version of the Ikaros myth.
Sat 5.2. 21 hrs (HKW)
5. Christian Ziegler (de): 'turned'
The multimedia dance performance is a synaesthetic bonding of the elements of dance, painting, visual art, and music by Christian Ziegler in collaboration with Sean Reed and DJ Florian Meyer. The dancing body (of Kazue Ikeda) provides visual material which is sampled in real-time. Visual traces of these movements are poetically re-designed or disturbingly deconstructed. Therefore, an initial glance at the losses that accompany each replacement and each dematerialization is provided. [Related]
Sun 6.2. 21 hrs (HKW)
6. Umatic (nl): 'ResonanCITY'
Many sounds and images in our everyday lives slip past our notice simply because they are too small, or because we lack the proper receivers to pick them up. 'ResonanCITY' is an ongoing project to gather these microscopic sounds from various cities, and to amplify and transform them. The performance builds a new city of sound and visuals inside the old one; it inspires the curiosity to explore one's own environment.
Sat 5.2. 21 hrs (HKW)
7. Venzha & the House of Natural Fiber (idn): 'CAUS#3' (citizen against UFO secrecy #3)
Based in Yogjakarta (Indonesia), Venzha and the House of Natural Fiber create experimental interdisciplinary performances and installations, using both new media and self-developed, sometimes low-tech equipment. In their projects, the aesthetics of technology are mixed with elements from Indonesian (contemporary) culture. For the opening of transmediale.05, Venzha will collaborate with fashion designer Irene 'ira' Agrivina. Using electronic and instrumental samples, 'CAUS#3' will blend sound from Indonesian urban life with spatial sound into a hybrid new space. Two live cameras will project Venzha's performance on a specially designed screen.
Opening: 3.2. 22 hrs (HKW)
transmediale.05
BASICS
international media art festival berlin
http://www.transmediale.de
info@transmediale.de
Posted by jo at 01:48 PM | Comments (0)
TRANS CULTURAL MAPPING - PROGRESS MANIFESTO ISSUES
"The exploratory movements of locative media lead to a convergence of geographical and data space, reversing the trend towards digital content being viewed as placeless, only encountered in the amorphous and other space of the internet. Much like Long, 'geo-annotation' projects such as [murmur] and Urban Tapestries weave interlocking narrative threads through the environment, and a wide range of other artistic approaches are also being explored, such as the mixed reality gaming of Uncle Roy All Around You, the ambient narrative of InterUrban, and the sensory immersion of Come Closer. It is too early to offer a topology of locative media arts, however, or to tie the field down with strict definitions or borders.
While artists such as Masaki Fujihata, Teri Rueb and Stefan Schemat have been producing work in this area for many years, more widely there have been only a handful of fully realised locative art works, with many projects remaining in the beta stage if not still on the drawing board. We have not yet reached the point at which the technology disappears - all too often the tendency is to focus on the technology and tools rather than the art or content." From Locative-Progress Manifesto Central [via Mobile Audience]
Posted by jo at 09:51 AM | Comments (0)
OFFLINE
Net Jamm
Outside the frame of the exhibition and for the opening of Unzipping Codes, the net jamm performance will be led by the members of the group OFFLINE, Brian Mackern, Arcángel Consantini, and Fernando Llanos. They will mix live inputs from the internet provided by themselves or OFFLINE colleagues that will resemble a mixture of DJ and VJ procedures while revealing the unstable nature of digital reality.
OFFLINE is a cross-border global group of artist collaborators working creatively with the Internet and related digital and networked media. The purpose of OFFLINE is to bring together online art practitioners and creative technical consultants for collaborative projects staged at real world locales such as art and music festivals, symposiums, cafeterias, rooftops and city streets. OFFLINE projects will take the form of live performances, installations, and diverse experimental augmented reality displays. OFFLINE is organized via an online mailing list and a central server.
Posted by jo at 09:28 AM | Comments (0)
December 09, 2004
Summoned Voices
Interactionfields
Summoned Voices--by Iain Mott and Marc Raszewski--acts as a living memory of people and place. It consists of a series of door installations each with an intercom, sound system and a computer that is networked to a central file and database server. The design metaphor of the door presents a familiar scenario, that of announcing oneself at a doorway and waiting for a response from persons unknown. Signage instructs the public to speak, make sounds or sing into the intercom. Their voice is stored and interpreted, and results in local playback composed of the individual's voice with those that have gone before. Summoned Voices acts as an interpreter of sound, a message board and an imprint of a community - a place for expression, reflection and surprise.
Summoned Voices is one of the 22 projects catalogued by Mirjam Struppek for her thesis Interactionfield - Public Space in the Digital Age (2002): "The public space is a field, which is created and becomes alive through various forms of interaction.
Thus interactive art with its life proximity, communicative issues and reflection of the power of the modern technologies is well suited to be linked with the urban public space. This information platform presents detailed some selected interactive media projects, which went consciously into the urban public space. The analysis, categorization and questionaire with the producers of these 22 examples show how new media can be alternatively used, in order to contribute to the rediscovery and reactivation of the urban space and to lead to new interaction qualities. In the open expandable list further projects are collected. With the time an archive can develop, with examples, that show new ways in dealing with the public space. The links section presents various conferences, research projects, articles and specialized artists that related to this topic."
Posted by jo at 06:36 PM | Comments (0)
The Meaning of Place
Technological Imagination and Human Experience
The Meaning of Place Forum and Seminar took place on September 9 + 10, 2003 in Hillsboro, Oregon: New technologies are reconfiguring our relationship to the places we inhabit. With the near ubiquitous presence of cell phones in many cities, the rise of wireless networks, hybrid games, the use of geographical information systems, and the emergence of an embedded computing research agenda in many labs, physical location has re-emerged as an important construct in the imagination of and creation of new technologies. But humans think of place quite differently than our technologies might demand. We inhabit places, not physical coordinates or zones of reception. Places are imbued with meaning through cultural practice; places are bounded and denoted in ways that may or may not match physical or technological means. This forum is intended to understand how the human construction of place both affects and is affected by new technologies.
People and Practices Research by Scott Mainwaring
Technology in Places by Joe McCarthy
The Links Between Place, Computing and Mobility by Anthony Townsend
Posted by jo at 06:21 PM | Comments (0)
msdm
researching mobile strategies of display & mediation
msdm [mobile strategies of display & mediation] is an imaginary organisation founded in 1998 by paula roush to research mobile strategies of display & mediation. A hybrid of artistic, curatorial, experimental practice operating in the interstices of institutions and social systems, the organisation aims to propose participatory alliances for transversal, critical, cultural and aesthetic outputs. The collaborations have extended into the domains of open source software, publishing, para-architecture, public signage, radio streaming and mobile media platforms. They have been shown in galleries, museums, non governmental organisations and independent spaces, including Space Studios, Coleman Project Space, The South London Gallery, the Institute of International Visual Arts, the Bauhaus Foundation, Gesellschaft fur Aktuelle Kunst and the Living Art Museum.
Projects include:
geneticSilence: Public intervention and installation at the Living Art Museum in Reykjavik for the project Polyphony. A bus tour -the 'genetic noise tour'- was organised connecting the gallery with the street. The initial proposal was to have it to collect tourists in the city centre and take them on a tour of the high security genetic labs in the surroundings of Reykjavik. Because the right bus could not be found, the project took another shape and the tour was done in a small VW van, with the tech crew streaming the sound and images to the museum. The accompanying wall catalogue and public newspaper boards showed an archive of the links between art, genetics and architecture. The word 'art' -privatised by a genetics research company- was 'corrected' in the museum signage with the corresponding patent number.
bowville: bow wireless/ space studios/ london; locative media performance, 2004. Marion Manesta Forrester was electronically tagged. She had 3 days to earn her right to become a citizen of Bowville. People had to vote for her to stay or to go by phone, online or in person by visiting the Bowville Investigation Bureau. Download Bowville Booklet, 9 pages (pdf, 656k) or individual pages at higher resolution : page 1 | page 2 | page 3 | page 4 | page 5 | page 6 | page 7 | page 8 | page 9 |
SOS:OK: A work generated in response to Biscuit Town, the name given to the area surrounding Peek Freans biscuit factory. Biscuit Town was a marker in both organisational and representational forms of labour. It was the first mass producer of biscuits and commissioned the first documentary film shot on location (A Visit to Peek Freans, 1906, BFI Archive). At its core there is an artistic intervention that crosses a gallery installation with a public art intervention. The aim is to produce an emergency biscuit in response to the history of the site (Peek Freans was the first factory to manufacture an emergency biscuit ration to feed the starving population of Paris during the Franco-German war 1870-71) and the current international state of emergency. The launch and the time based performance at Coleman Project Space is inserted into a wider public campaign which includes billboards.
Posted by jo at 05:44 PM | Comments (0)
Are cell phones new media?
re-narrating cities via nomadic technologies
"Multiuser environments in cyberspace have frequently been regarded as utopian spaces in which users could project their imagination. When communities are shaped in a hybrid space, mobile phones become new media tools for creating novel and unpredictable imaginary spaces, re-narrating cities. Fixed Internet users do not have the ability to move through physical space. But the emergence of nomadic interfaces represents a chance for such imaginary spaces to be enacted and constructed in physical space.
Nomadic technologies have a twofold role in the construction of playful/narrative spaces. First, they allow virtual spaces to be mobile, bringing them into the physical world. Second, when used to play games, they free the game from the game board or the computer screen, making it possible to use the city space as the game domain." from Are cell phones new media? by Adriana de Souza e Silva [Related]
Posted by jo at 12:44 PM | Comments (0)
December 08, 2004
Infrasense
Trojan Horses and Bugs
Worms, back doors, Trojan horses and bugs are some of the better-known terms and metaphors for viral activities on the Internet, on desktops, laptops and in digital research and development labs around the world. The Infrasense project uses the idea of the 'Trojan Horse' and the 'Bug' as two digitally bound elements, which are subsequently produced as physical entities and in turn are partially controlled from the Internet again. The idea is to take concepts from the digital world, render them as physical objects and then return the control of the physical back to the digital landscape of the Internet.
Using 3D figures of bugs and Trojan horses to represent computer viruses, the artists turn the gallery into an interactive game space. Movement of the visitors influences the movement of the bugs and horses but so too does user input from the project website. As the visitor tries to interact with the system in order to access hidden information, questions of control, coordination, and location are raised through the installation. [via near near future]
Posted by jo at 01:25 PM | Comments (0)
Simultaneous Translation - A Networked Collaboration
Distance and Time Through the Lens of Streaming Media
Friday December 17 & Sunday January 16, 2004; Madrid, Spain 20:00 (19:00 Greenwich Mean Time. 2PM Eastern Standard Time); Concert and live internet audio stream. Developed by John Roach with Miguel Ramos and Willy Whip Performers: Carlo Giordani, John Hudak, The Same Room Left, James Rouvelle, Mike Rosenthal, John Roach & Miguel Ramos.
Simultaneous Translation is an international networked performance that draws connections between language and the internet. Just as language has changed over time and as dialects have evolved as groups of people moved geographically from place to place, so in this project, live sound will be effected by time and distance. Audio created by the participants in Madrid, the US, Germany and Italy, will be broadcast live on the internet. [Related]
Posted by jo at 11:54 AM | Comments (0)
The Leonardo Awards Program
Award Recipients
Leonardo/ISAST, through its Awards Program, recognizes artists and organizations involved in the use of new media in contemporary artistic expression. Artists and organizations are nominated by Leonardo/ISAST Associate Members. The following award recipients have been named:
Steve Mann (Canada) is the recipient of the 2004 Leonardo Award for Excellence. In his winning article, the author presents "Existential Technology: Wearable Computing Is Not the Real Issue" as a new category of in(ter)ventions and as a new theoretical framework for understanding privacy and identity. Mann has written more than 200 research publications and has been the keynote speaker at numerous industry symposia and conferences. His work has been shown in museums around the world, including the Smithsonian Institute, the Museum of Modern Art in New York, the Stedelijk Museum in Amsterdam, the Triennale di Milano and the San Francisco Art Institute. He received a Ph.D. from MIT in 1997 and is now a faculty member at the University of Toronto. Read his Leonardo article [PDF].
Critical Art Ensemble (U.S.A.) are the recipients of a special 2004 Leonardo new Horizons Award for Innovation in recognition of their artistic work in fields such as biotechnology, robotics and tactical media. Their performances and installations have reached viewers around the world and have broken new ground in the often controversial area of new technologies. The Leonardo/ISAST Governing Board voted to give CAE this special award to affirm the principle that artists should engage emerging technologies and be willing to take critical stances that may be at odds with those of the mainstream. Freedom of artistic expression and research form a part of the foundation of an open society. For more information on Critical Art Ensemble, please visit http://www.critical-art.net.
Arthur Elsenaar and Remko Scha (The Netherlands) were the recipients of the 2003 Leonardo Award for Excellence for their article "Electric Body Manipulation as Performance Art: A Historical Perspective," published in Leonardo Music Journal 12. Arthur Elsenaar is an artist and electrical engineer who ran his own pirate radio station and built the transmitters for many illegal radio and television stations throughout the Netherlands. Elsenaar's recent work employs the human face as a computer-controlled display device. Remko Scha is an artist, DJ, and computational linguist. He has built an automatic electric guitar band ("The Machines"), designed an image generation algorithm ("Artificial"), and developed a theory about language-processing ("Data-Oriented Parsing"). Arthur Elsenaar and Remko Scha have jointly developed a series of automatic performance pieces and video installations that involve computer-controlled facial expression, algorithmic music, and synthetic speech. These works have been presented at scientific conferences, theatre festivals, and art exhibitions throughout Europe and the United States. Elsenaar and Scha also explore the use of automatic radio stations as a medium for computer art. Read their Leonardo article [PDF].
See full list of recipients.

Posted by jo at 11:33 AM | Comments (0)
December 07, 2004
October Surprise
Creative Interventions and Underground Politics
Los Angeles is made up of a collection of diverse neighborhoods, each delineated by various physical and social geographies, and tenuously connected by a complex of shared economies, cultures, and desires. East of the LA River, stretching up along Figueroa Avenue and the Arroyo Seco, Highland Park is girded by Mount Washington, Montecito Heights, Glassel Park and Eagle Rock. Highland Park is but one town among many that could be called home. This section of Northeast Los Angeles will be home to the series of events documented in these pages, and include the efforts of artists, activists, and citizens concerned with the local manifestation of culture, politics, history and ecology.
...Nearly every space in our life demands dealing creatively with poor urban planning, bad schools, privatized histories… Yet we are encouraged to become global drifters instead - just more consumers wearing Hard Rock Café T-shirts from Bangkok, Paris or Disneyland. To explore some of these possibilities, October Surprise has created a space for site-specific installations and interventions that recognize THIS place as our home, revealing and celebrating the past, present and possible futures of Northeast LA. .."This is OUR city, let's live in it!"
Posted by jo at 11:59 AM | Comments (0)
Inexplicable
Walter Ong and the problem of writing about LambdaMOO
"I've known Sue Thomas online and off for about 5 years. Her contributions to understanding life online are extraordinary for three reasons. She lives fully online meaning that she immerses herself (not that she lives ONLY online). She takes time to critically and sometimes painfully reflect on her experiences. And most importantly, she shares what she has learned.
Recently she wrote an article for trAce, her online professional (and, I sense, artistic) home. In Walter Ong and the problem of writing about LambdaMOO Sue reflects on why it is so damn hard to explain online interaction experiences to those who have never had one of their own. (Bolding below is mine.)
"At trAce I often speak with people who live and work online about their perceptions of how the net has changed them and the worlds in which they move. In every conversation the transient nature of connectedness is taken so much as a given that there is hardly any need to define or describe it. Everybody knows what it is, how it feels, the energy of it, the occasional despair at its tricks and limitations. We talk about it using the common shorthand of the net - emoticons, acronyms, program code - because the language itself is the key to the concepts and experiences we are discussing. But the problem is that, despite no specific intention that this should happen, it has evolved into a secret cultural discourse which is unintelligible to the uninitiated."
Sue goes on to talk about Walter Ong's work on orality and text based literacy.
"Because Ong's analysis convinces me that LambdaMOO and places like them are unique in that although their sole method of communication is textual, the communication that actually takes place there is oral. MOO life happens, as Ong describes of a real-life oral community, "as it really comes into being and exists, embedded in the flow of time." Its characteristics are therefore those of a group which shares physical space and human experience, and it is equally fractured and transient. Furthermore, it uses tropes and vocabulary that are also embedded within that experience and unintelligible outside it."
This set off bells for me. I recognized this shift between text created for an article or a novel, and text that "happens" from me as I participate with others online. It is oral. The back channel chat that Liz mentions is an example: how the form allowed the question to surface over the questioner. The question is the story that is passed from teller to teller in pre-literate times. For a moment, it embodies the speaker as he or she experiences typing it into the chat, but through the medium it becomes "of the group." I'm reminded of an article Stowe Boyd wrote recently about "real time," and his experience. "But more important, the idea that there is some high-order benefit in being able to collaborate asynchronously. Its always a crude approximation of real-time interaction, because the players are unavailable."
I can recount experiences for when the asynchronous has created more of a reality than real time. When the players were "available" but in a way I struggle to express. We have different experiences of what Sue called the "embedded flow of time." And for each of us, it is real.
That is what makes this whole experience almost inexplicable. It is experience rather than the reification manifest in text." Originally blogged by Nancy White.
Posted by jo at 11:26 AM | Comments (0)
Robotlab
Warming Up to Robots
Robotlab works with industrial robots in public spaces. It explores the relationship between man and machine by means of experimental labs, performances and installations. They try to create experimental forums in which the public has the opportunity to interact with robots and respond to their massive scale, movements, and mechanical sounds. ["Second Career for Old Robot: Art" in today's Wired]
For example, in the installation juke_bots two robot arms act like a DJ. Each machine is surrounded by records which they can select and pick up. In front of each arm a record player is positioned in a way that the robot can thread the records under its needle. Without taking off the record the robot can play and scratch, forward as well as reverse, speed up or slow down the music, and thus generate new sounds with their own characteristics. 'juke_bots' operates as an autonomous performance and as an interactive installation. On a panel the auditor can request certain records or scratch-styles from the machine-artist. By throwing money in a slot the robots play their own compositions.
Another example is motion_interchange: a visitor enters a space and stands across from a robot arm. As the person moves, the robot observes and simulates those movements himself. As this happens, a communicative exchange arises between man and machine that is simultaneously performance and interaction.
Their mutual referencing lies in their reciprocal observation: human eyes on the one side, video eyes on the other. Perceiving the movements of the person or machine opposite directly influences further behavior.
The machine can adopt several characteristics. Both the user and the machine have geometrical objects in their enviroment symbolizing various modes of behavior. If the person takes an object, then the robot takes the respective object as well, and through this exchange, further possibilities develop.
If the visitor adapts his body motion to that of the machine, then the robot can imitate the human gesture. The robot's abilities, however, cannot accomodate more complicated positions or faster movements. Depending on the exemplified behavior, the machine can either respond to the situation or break with his previous logic and find alternative means of expression. The results are never predictible; they depend on the performative behavior of the user.
Posted by jo at 10:29 AM | Comments (0)
December 06, 2004
navigating the narrative in space
Mary Flanagan will give the keynote at "Playing the Past: Nostalgia in Video Games and Electronic Literature" conference, to be held on March 18-19, 2005 at the University of Florida.
Flanagan's navigating the narrative in space: gender and spatiality in virtual worlds" is an important complement to Turkle's, Bruckman's, and Donath's writings on gender and technology...Flanagan is co-editing--with Austin Booth--the much expected "reskin" (Cambridge: MIT Press), which is forthcoming in 2005. Reskin follows the 2002 piece by the same editors "reload: rethinking women + cyberculture" (also MIT Press). The 2005 book focuses on how technology is being used to alter the physical body."
Posted by ana boa-ventura on net art review
Posted by jo at 03:45 PM
TROIA
Urban Mobile Theatre Platform
The TROIA project comprises the development and production of an urban mobile theatre platform by a wide range of leading European theatre-makers, artists, architects, engineers and scientists.
The whole purpose of TROIA is to focus public awareness and discussion on the technologies of political control within the context of a fast developing Europe. It takes the most recent reports of the Manchester based Omega Foundation as its starting point. From this TROIA will develop a futuristic stage, a huge transportable building that will appear in the public forum and engage the public in ways expected and unexpected. Indeed this mobile modular container will function like a latterday Trojan Horse by infiltrating the concious and unconcious precepts of both the visitors and passers by alike. Though it has the appearance of a gift it carries a dangerous and at times subversive content.
The architectural structure is a travelling citizens forum, a hybrid info-box with a spectacular architectural presence. It is designed for the temporary positioning in the centre of Kaunas, Vienna and Prague, cities central to the fault lines of recent European history. Following the projects completion is intended to install TROIA at a well situated permanent site.
Embedded within the architecture is media art and technology that will engage actors and visitors in interaction. The subject matter is communicated by the employment of performers acting as undercover agents provocateurs with a performance based on a script that is individually generated by each host country where TROIA is exhibited, thereby making it as culturally relevant as possible. The actors, not detectable as such, mingle with the crowd and go to see the multi-media event with them. Their main task is to initiate conversations and to infiltrate the public space with information and opinions.
This combination of subtle dissemination and spectacular form should open a field of tension within the visitor that lasts well after the project is finished ... in fact planting a Trojan "seed" in the the viewer that can inform the public discussion on the issues the exhibition raises and thereby contribute to an active development of society in which it appears. [via mobile audience]
Posted by jo at 10:50 AM | Comments (0)
Standards and Double Standards
Watchful Belts
Rafael Lozano-Hemmer's Standards and Double Standards installation consists of 4 surveillance cameras, a tracking system and fifty fastened belts suspended from servo motors on the ceiling.
Controlled by a computerized tracking system, the belts rotate to follow the public, turning their buckles slowly to face people. When several visitors are in the room their presence creates chaotic patterns of interference. Non-linear behaviours emerge such as turbulence, eddies and relatively quiet regions.
With this piece, the artist wants to visualize complex dynamics, turning a condition of pure surveillance into an unpredictable connective system. Standards and Double Standards creates an "absent crowd" using a fetish of paternal authority: the belt. [Quicktime Video] [from near near future]
Posted by jo at 10:30 AM | Comments (0)
Ghost in the Cave
An interactive collaborative game using non-verbal communication
Ghost in the Cave is a collaborative game in which two teams of players use the voice or body gestures for input control. Players not directly involved in controlling the avatars are participating by influencing the music through movements. The task is to navigate in the 3D world and to find three caves. Within each cave the players do an "emotional" task.
The aim was to test the applicability and intelligibility of expressive gesture in a new setting. First, could expressive gesture, e.g. music and dance, be used as a basis for (audience) collaboration and participation? And second, could it be used as an input control / means of communication in an interactive game environment? [Example of movement navigation and music control avi file (4.7M)]
Main Features
Non-verbal communication:
-Both interaction between the computer and between team and players
-Expression in vocal sounds and body movements
Collaboration:
-Team work and audience participation
The game involves participants in an activity using non-verbal emotional expressions. Two teams use expressive gestures in either voice or body movements to compete. Each team has an avatar controlled either by singing into a microphone or by moving in front of a video camera. Players control their avatars by using acoustical or motion cues. The avatar is navigated / moving around in a 3D distributed virtual environment using the Octagon server and player system. The voice input is processed using a musical cue analysis module yielding performance variables such as tempo, sound level and articulation as well as an emotional prediction. Similarly, movements captured from the video camera are analysed in terms of different movement cues.
Ghost in the Cave is a collaboration including four partners within the MEGA project: Speech, Music and Hearing, KTH, Stockholm; Octaga/ Telenor, Oslo; DIST InfoMus Lab, University of Genoa; DEI, University of Padua; and with CID, KTH, Stockholm.
EPS - an interactive collaborative game using non-verbal communication. [PDF]
Posted by jo at 10:08 AM | Comments (0)
SoundSlam
Highly Responsive Punching Bag
"A DJ's life is hard and spoiling. Deejaying all night in overcrowded clubs and producing trax in the studio causes not only fame but also bad temper. DJs most frequently suffer from muscular atrophy and heart disease. SoundSlam is a high end controller built from a punching bag provided with 12 sensors, which are sensitive to pressure, a global acceleration sensor and a soundprocessor unit. Slamming the punching bag at the right spots allows you to control audiofiles and create song structures through your own physical input. Regular use of the SoundSlam lets your muscles grow like grass after a refreshing summer rain. All the girls will not only be delighted by your sophisticated sound but will also love your strengthened body. Other Fur projects.
Posted by jo at 09:24 AM | Comments (0)
December 03, 2004
Spinne
Touching of the spider-web
Spinne, by Laura Beloff and Erich Berger (the duo from the Seven Mile Boots), is a networked audio installation of four sculptures made of plastic spheres, loudspeakers and metallic leg constructions. They correspond to four software programs, little search engines known as web-spiders that are sent out into the internet to chase some words or phrases. For example the word "women" can be searched from informational, religious, entertainment, and shopping sites.
Everytime a websurfer is accessing the website, the physical installation is reacting to it by shaking of the cables ("touching of the spider-web"), vibrating the speakers and modifying the soundscape. Little spider replicas are also placed on top of each loudspeaker membrane and the amount of the chased words can be heard and make the glass spiders dance on the membrane. Video.
Originally blogged on near near future
Posted by jo at 02:02 PM | Comments (0)
Thank You
altruism, interaction and exchange
Please visit the exhibition Thank You—an activist art project conceived by Danish/Australian/U.S. group Wooloo Productions (I'm in it!). It launched yesterday on World AIDS day, December 1st, 2004. Thank You "confronts its audience with the relationship of exchange between Africa and the West. Dealing specifically with issues of exploitation and disease, the project utilizes possibilities afforded by online technology to illustrate the absurdity of today's co-existing economic reality." [blogged by Mary Flanagan on grandtextauto.]
The show is meant to be a platform to critique altruism and exchange while at the same time help real people (this contradictory stance of critical activism is driving me to read a lot of Negri, by the way–and much of his writing is liberated!!).
Wooloo Productions invited one American (mary) and four South African artists to create interactive artworks. Each viewer interaction with the works results in the release of one South African Rand (approx. US$ 0.15) towards the cost of setting up an HIV Education Center in Khayelitsha. So when visitors click on projects they help raise $$– we can collect quite a large sum from donors to help build the center if people visit our works. So click away!! The Thank You show takes place simultaneously in two physical locations—Artists Space and a public stage in Khayelitsha, Cape Town, South Africa—as well as online. If you're in nyc, visit Artists Space (38 Greene st, 3rd Floor). In Khayelitsha, its on the center stage area at Site B, where Wooloo member Sixten is acting as host for the show . The works are presented on computer monitors in the two project locations from Dec 1 - 11 2004. There is a video hook up linking the sites.
I made the game [six.circles] specifically for this show. Players connect triangles to form shapes, but while playing, must introduce illness into the community. Players have to negotiate and sacrifice to cooperatively prevent the spread of the disease or cure pieces while still attempting to win the game by creating "six circles" out of the shapes. A circle cannot be "closed," however, unless it is 1/2 infected, showing that communities must work together and embrace problems as a whole.
Right now [six.circles] is functioning as a game for two players on a local machine, with cross-net gameplay coming this weekend and single player mode soon to follow. Lots of people to thank for inspiration and help, including Ruth Catlow, Joline Blais, Jon Ippolito, and Sebastian. I'm also working with the amazing Chris Egert, an old friend. He is technical engineer on the project and he's faculty in RIT's Information Technology Dept (where there are ruminations of gaming program afoot). You can also visit the project from my website, which has more writing about the [six.circles] game.
Posted by jo at 01:28 PM | Comments (0)
Bridging Series
performance intervention
Sifting the Inner Belt would like to invite you to the first performance intervention as part of their "Bridging Series."
DATE: Friday, December 3rd
TIME: 6 to 8 PM
LOCATION: The Boston Center for the Arts' Mills Gallery
The "Bridging Series" takes place in the South End neighborhood creating direct and indirect "bridges" between the Boston Center for the Arts and the Berkeley Street Community Garden, both of which are long-standing neighborhood institutions. The series coincides with select South End "First Friday" gallery openings. The performances take the form of "instruction works" requiring audience participation.
Directions/instructions for the performances will be available at the plaza in front of the BCA Mills Gallery, while the performances may take place in various locations throughout the South End. These performance interventions will take place, rain or shine (or snow).
Sifting the Inner Belt is a year-long social performance and research art project that consists of a series of performance interventions and performance-based research projects, which closely observe and examine, i.e. sift, the South End neighborhood with an emphasis on creating emotional, conceptual and physical bridges between the Boston Center for the Arts (BCA) and the Berkeley Street Community Garden (BSCG). This project was developed as a collaboration of artists, activists and community residents: Jeremy Chu, Catherine D'lgnazio, William Ho, Hiroko Kikuchi, Jeremy Liu, Natalie Loveless, and Kim Szeto. An exhibition based on and documenting Sifting the Inner Belt is scheduled for the Mills Gallery from June 17 to July 31, 2005.
We hope you can join us!
For more information about the project, please visit our website at: http://communitygarden.typepad.com
For directions and information to the Boston Center for the Arts, please visit their website at: http://www.bcaonline.org
Posted by jo at 01:17 PM | Comments (0)
Interactive portrait of the Liberties
interactive narrative environment as navigable architectures
The Interactive portrait of the Liberties--by Valentina Nisi--is an interactive digital narrative application developed in conjunction with the Trinity College/MediaLabEurope CARMEN HCA founded project. The vision is to provide multimedia content to individuals and to groups, which is relevant to them at a particular point in time and space – in other words, context-aware. The delivery platform for multimedia application will be the WAND infrastructure: a collection of wirelessly connected nodes linking Media Lab Europe with Trinity College where content and services can be stored. The WAND infrastructure and the CARMEN middleware and software will allow stories, collected from local community members, to be distributed in the space and physically navigable taking literally the metaphor that describes interactive narrative environment as navigable architectures. Example.
The stories will be available to the users as they walk around. A database of many short self-contained stories is put together following the themes of locations, social networks within the community members and a family genealogic threes. Location, social network, user profile are some of the variables that come into play when talking about context aware stories. Depending on the changing variables many different combinations of the story elements can result from the viewer navigation of the area.
The stories have been researched and collected by making contact with local community members and through books with a strong emphasis on the social and folkloristic aspects of the area, such as Mairin Johnston book "Around the banks of Pimlico" and Leo Mhonogan not yet published photographic collection about the liberties. Some ethnographic interviews have been conducted during the summer that revealed a rich baggage of stories and traditions which make the liberties area an ideal location for this type of project.
Posted by jo at 12:21 PM
Augmented Space
"GPS, wireless location services, surveillance technologies, and other augmented space technologies all define data space – if not in practice than at least in their imagination - as a continuous field completely extending over and filling in all of physical space. Every point in space has a GPS coordinate which can be obtained using GPS receiver. Similarly, in the cellspace paradigm every point in physical space can be said to contain some information that can be retrieved using PDA or a similar device. With surveillance, while in practice video cameras, satellites, Echelon (the set of monitoring stations which are operated by the U.S. and are used to monitoring all kinds of electronic communications globally), and other technologies so far can only reach some regions and layers of data but not others, the ultimate goal of the modern surveillance paradigm is to able to observe every point at every time. To use the terms of Borges's famous story, all these technologies want to make the map equal to the territory." From "The Poetics of Augmented Space: Learning from Prada" by Lev Manovich.
Posted by jo at 10:49 AM | Comments (0)
Grand Thieves Audio modologues
We're tired of stealing cars. So we're stealin' the soundtrack...
Grand Theft Auto: Vice City, an earth-shaking game of theft, prostitution, , and beautifully animated racist depictions of Cubans and Haitians. You are free-wheeling Tommy Vercetti, driving any car you can pop the lock on, taking s out to the lighthouse, enjoying all the pixilated pleasures the 80s can offer you. Bunk is making the game that much better because we're putting somebody in the car with you. We're carjacking the game with a mod of our own...This is only the beginning, the first in a series of monologues (or modologues) and performances we're testing out. Send us yours and we'll feature them on the page...(Modologue: Machinima-style dubbing that modifies game-play through an alternate narrative.)
"On Bunk, we've published the beta of the "Grand Thieves Audio" project. These MP3s constitute our attempt to carjack the audio on "GTA: Vice City." These audio files attempt to recontextualize the playing experience along subversive avenues. The idea is to create the illusion of new (subversive) nonplayer characters in the game through the audio."
These modologues combine the audio dubbing of machinima with the infiltration of game mods (since sticking them in your MP3 folder does not alter the code of the game). Unlike Machinima, which dub sound tracks over edited clips of game play and turn the player into a spectator, these monologues, or "modologues," let the user play in a different narrative context.
These files represent the first attempts to infiltrate the game. I hope other performers will record some and send them our way so we can build a library.
Current downloads include: Army Recruiter (since video games are now tools of recruitment), Mama Vercetti, The Driver's Ed Instructor, and Arnold Schwarzenegger (though this last is anachronistic and probably more suitable to "San Andreas")."
Posted by jo at 10:38 AM | Comments (0)
mobile_connections
SPACE
mobile_connections explores how geographical, cultural and perceptual space are being reconfigured by wireless and mobile media, and looks at the diverse ways in which artists are pushing the limits, and soliciting unexpected or unforeseen results, from communication media past and present, from the radio to mobile telephony and wireless LAN.
mobile_connections is the media art strand of the futuresonic04 festival of electronic music and media arts, and also involves satellite events at other international events in the lead up to the festival. It was devised by loca.
Posted by jo at 10:18 AM | Comments (0)
December 02, 2004
Teri Rueb's four questions
Four very good questions on locative media posted on the Location_Focus list (blogged below), reblogged by Martin Rieser on Mobile Audience:
From: Teri Rueb
1) Community and site-specific practices of the 60s and 70s emerged in large part from artists concerns about circumventing the elitism of the gallery/ museum system and addressing issues of representation and participation in shaping and interpreting the cultural landscape. Whether or not communities / sites have been meaningfully and responsibly engaged in such practices remains a central concern in evaluating their impact. How do you see emerging practices in locative media relating to and carrying forward this history - or do they? Has this historical connection been adequately examined? What role does the technology itself play in locative media practice? Is it critically engaged or does it more often tend to upstage or eclipse social concerns inherent in such practice?
2) The mobile phone is often envisioned as the ideal delivery platform for locative media works due to their ubiquity and general accessibility. Even where bandwidth via mobile phone becomes an issue (in the case of video or sound), shifting the focus to alternative hardware platforms such as PDA or pocket PC still requires a contractual relationship with the phone company or ISP for connectivity. In each case, a tremendous amount of power and profit is placed in the hands of the phone company as content delivery potentials expand with locative media. Can we envision ubiquitous/accessible delivery systems that don't leave the phone company holding all the cards? Can policy dictate the equivalent of a "public access" channel, or percent-for-art model equivalent for locative media that relies on network connectivity? Are there alternative solutions that can maintain the vision of universal access when it comes to mobile connectivity?
3) Where might locative media take us in terms of cognitive and proprioceptive ability and awareness? What kinds of cognitive processes are engaged by or emerge from interaction with locative media? For example, in my own work I have used sound overlays only - no screen-based, visual content delivery. This is partly because I believe that audio is a more appropriate mode of information delivery when dealing with the mobile subject where eyes and bodies are typically already engaged in navigating and taking in the surrounding environment. However, I am open to the possibility that we might adapt to multi-modal interfaces as they become more pervasive. For example, it was originally thought that putting a radio in a car was dangerous - but very quickly a radio became an essential part of the standard dashboard.
4) How do locative media re-invigorate practices associated with predominantly oral cultures such as the fixing of information in memory based on place (as in ancient and classical mnemonic arts) and movement (as in Aristotle's peripatetic school) or the spatialized narrative of aboriginal walkabout or the medieval bard? Can Walter Ong's notion of secondary orality be meaningfully applied to this area of inquiry?
See answers.
Related: Sabine Breitsameter's interview with Teri Rueb on Audiohyperspace
Posted by jo at 11:58 AM | Comments (0)
.ran [real audio netliterature]
Automatically Generated Authorship
In five parts, the series .ran [real audio netliterature] - curated by Johannes Auer - will pick up various approaches of net literature (code, montage/collage, authorship, text-image-(sound) indifference, reference systems) and try to apply them to the medium radio. The current panorama is sketched out approximately by presenting 5 different positions.
December 5, 2004, 23:05-23:45, KUNSTRADIO: .ran part 2: "Authorship and its automatic generating" by Cornelia Sollfrank and Timothy Didymus: along with the possibility of technical reproduction provided by the printing machine the individualization of authorship came in the 18th century, as well as the invention of copyright. During the 20th century, a diversity of artistic attemps was undertaken in order to deconstruct individual authorship and the implied ideas about geniality and originality.
Started by Dada and continued by the Surrealists one can follow this development which now faces an expected culmination, caused by the rise of the digital media. Playing with identities, the availability of an endless amout of material and information on the Net, the possibility of copying without loss of quality, as well as anonymous and decentralized ways of distribution have formed a networked culture which often makes it impossible to identify a single author. And also the works are in a permanent state of re-work and variation.
"Generative art" is a special variation of this networked culture. Here, authorship very often is distributed to several contributors - for example the user, the programer, the artist who makes the concept and provides the environment, the authors of the re-worked 'original' material, and most import the computer(-program). A consequent handling of this kind of art, makes it hard to almost impossible to categorize it by parameters like "authorship" and "originality" on which not only the art world but also copyright is based.
The radio play "Automatically Generated Authorship" tries to relate in form and content to the described development. Four characters represent the different layers of discourse around the issue: a male and a female computer voice, as well as a male and a female human voice. The spoken text, noise and generative music compositions comprising the radio play have been rendered from a jump-cutting timeline. Although the content is seeded by the authors (Sollfrank & Didymus), the final form has been left purely to a software based music-engine to arrange.
The shock of jump-cutting, the un-fixing of order, creates new symbiotic meanings and relationships, manifesting not only as a disruption of the codes of listening, but also perhaps more importantly a 'bringing together' of ideas not (fully) intended by the artists. This act demonstrates the seductiveness of the timeline, and time based media in general.
next programme:
23.1.05 Sylvia Egger: DADA TO GO: A WALKTHROUGH LEVELS
30.1.05 Heiko Idensen: live!
13.2.05 Florian Cramer: Codeworks
previous programme:
07.11.04 Beat Suter/René Bauer: Man - Machine :: Apple in Space ::
Search the World
Posted by jo at 11:57 AM | Comments (0)
Trajets
between the subject and the object is the trajectory (Paul Virilio)
Trajets is a movement based installation directed by Susan Kozel & Gretchen Schiller and produced by an interdisciplinary group. The research is based on generating kinaesthetic responses to the movement of the images and screens. Suspended screens move in response to visitors' pathways in a 10 x 10 meter space. A set of movement parameters are attributed to the screens causing some screens to appear sensitive, some not so sensitive, some to follow visitors, some to be repelled by visitors, some to spin, etc. Each screen is driven witha step motor plate attached to the ceiling. Two cameras, vision-sensing software "Eyes" and Cycling 74's Max are used to locate the positions and patterns of visitors walking in the installation. The 'forcefield' software field' software simulates the magnetic interaction between the people and the screens. Images from two video projectors cross onto the screens. These images range from moving bodies to kinaesthetic patterns. A map of the visitors trajectories are projected in a remote location allowing them to see peoples' pathways while in the installation.
Posted by jo at 11:14 AM | Comments (0)
Mobile Games
Research on location-based mobile games
Adriana de Souza e Silva is a Senior Researcher in the UCLA Graduate School of Education and Information Studies, where she studies mobile communication technologies, "focusing on how these devices change social practices and the experience of urban spaces by means of location-based mobile games."
Her 2004 PhD dissertation (pdf) on "nomadic technology devices and hybrid communication places" looks particularly interesting:
"This dissertation addresses how mobile communication technologies, with a focus on cell phones, have an active role in creating new types of communication and social networks in a hybrid space formed by the blurring of borders between physical and digital spaces. It analyzes the transference of social places from cyberspace to hybrid spaces. Nomadic technology devices are responsible for producing new social networks in a space that interconnects the physical and the virtual due to their users' perpetual mobility ... Nowadays, the constant connection to virtual spaces, allowed by new mobile communication technologies, transforms our social spaces, as well as the projection of our imaginary places in urban spaces..."
Originally blogged by Anne Galloway, purselipsquarejaw
Posted by jo at 11:00 AM | Comments (0)
Energie_Passagen
Public Voices Thrown Into the Flow
From Audiohyperspace: "Emergie_Passagen: Reading and (De)Scribing the City" - so the subtitle of this interactive audiovisual installation, which [could] be experienced until November 29th on Munich's Salvator Place. The installation understands a city's public speech - its inhabitants' chatting, the language of politics and media - as diverse streams of energy, from which an architecture is taking shape. The latter is made audible and visible by the art work. Every evening between 6 and 10 p.m. the square in Munich's city center is becoming a place, where a mediated, up-to-date intellectual-political milieu is emerging. The installation is mainly dealing with the interactive generation of semantic connections. A process, which can be initiated by every single passer-by and whose principles can be followed very well online.
Starting point for "Energie_Passagen" are texts taken from a mass medium, the daily newspaper. An automated computer process analyses the German newspaper "Süddeutsche Zeitung" and reduces it to catchwords. The terms which are filtered in this process are then projected as the "information flow" on the square "Salvatorplatz" in Munich.
As a visitor, you can choose between terms and "throw" your choice into the flow. Thus, movements of text are initiated and links between the terms become apparent. The resulting networks of terms create contextual links and new meanings which differ from the original linear texts. Computer voices immediately react to your "input" and accompany you in an echo of many voices.
In addition, a world map visualizes the path through the geographic landscape of news which the visitor takes based upon her/his choice. A developing linear illustration emphasizes the links between local location and global events.
The visible result of this interactive process is the "Living Newspaper". Its dynamically generated texts are projected on the square's "information cube". Newspaper texts are fragmented and transformed, creating new sense or non-sense. - A model maybe, how texts become catchwords, catchwords become arbitrary language patterns. It shows, how not content is the object of mental appropriation, but selections of terms and words are based on association and deliberate playfulness. By this, an intellectual is emerging, coined by the concert of terms and catchwords.
A livestream, accessible via the project's index page, makes the process audible via Internet.
Posted by jo at 10:21 AM | Comments (1)
Palladio
Selling Out
Palladio by Ben Neill and Bill Jones, adapted from the novel by Jonathan Dee is premiering at the New Territories Festival 2005 in Glasgow, Scotland February 12, 2005 and The Leonard Nimoy Thalia Theater, New York City March 4-5, 2005
Artistic passion and commercial greed collide in a new digitally created narrative/performance format that fluidly mixes sampled commercials, live action cinematic drama, DJ /VJ culture, and live music. Palladio asks the question, "In a world where the line between culture and commerce is increasingly blurred, can you really sell out anymore?" Based on the 1998 novel Palladio by New York Times Magazine writer Jonathan Dee, Neill and Jones new media performance work tells the story of an unlikely romantic triangle set against the backdrop of the often conflicting worlds of music, art and advertising.
Coming out of the world of DJ/VJ culture, Neill and Jones' networked instrumental ensemble plays the video and music simultaneously. The musical score includes Neill's evocative instrumental compositions as well as songs with lyrics written by Lance Jensen, the award winning advertising creative director. Mikel Rouse, a noted composer/performer and creator of the TV talk show opera Dennis Cleveland will play a leading role as an actor and singer.
Palladio's video component, projected onto a movie theater screen, includes commercial samples seamlessly merged with live-action footage as the lead characters played by Rouse, Zoe Lister-Jones and Cort Garretson are digitally transported into an environment created from the ads portrayed in the story.
Ben Neill, internationally known composer, performer and inventor of the mutantrumpet, a hybrid electro-acoustic instrument, has been a pioneer in the use of interactive computer technologies in live performance. Neill has recorded seven CDs of his music on Six Degrees, Universal/ Verve, Astralwerks, and other labels. Visual artist Bill Jones has been exhibiting in galleries and museums for over two decades. He is also a noted writer and editor who has founded a number of periodicals including The Independent Film and Video Monthly and ArtByte the Magazine of Digital Culture.
Neill and Jones have collaborated on performance works and exhibitions since 1996. Their previous projects have been presented in festivals, concert halls, clubs, galleries and museums internationally. Palladio expands the techniques and interactive musical video vocabulary they have been successfully developing together in the context of DJ/VJ culture into a full-length cinematic and dramatic work.
Posted by jo at 09:06 AM | Comments (0)
THEATRALIS
mean meant meaning
Commissioned by Turbulence.org in 1999, THEATRALIS--by Eric and Michelle Riel--explores theatre for the net. Traditionally, theatre is defined as a live, text-based performance narrative, experienced by a collective audience. Theatralis investigates the paradigmatic shift of the performative, narrative, technological, and interactive experience through the individual, mediated web interface.
In A Novel of Thank You, Gertrude Stein explores the process of making a novel. As a documentation of the process of thinking, the content is rich in repetition. On the surface it appears random and nonsensical, although it is carefully edited. As it is about the aural and visual patterns of thought the reader becomes an actor.
Theatralis explores the process of experiencing how random and nonsensical content generates thought processes that can always construct a seeming narrative. Humans search for meaning, comprehend through stories. On the net we are creating our collective meaning from our individual stories.
what can it mean
there is a mean
to be meant
Posted by jo at 09:03 AM | Comments (0)
Mobile Confessional
Broadcasting Sin
The scenario of the Mobile Confessional is as follows: when you see the vehicle (called projectCAR) while stuck in traffic, you can call in to hear the message: "Welcome to the Mobile Confessional. Our service provides callers a safe and anonymous place to confess their sins to the world while commuting in Los Angeles. Your confession and an appropriate penance will be scrolled across the electronic sign in the back of the mobile confessional vehicle. Please, take a moment to share your sins with the world, so that all may forgive you."
This is only just one of the projects of Design and Technology for Mobile Experiences that tries to understand how design and technology can create compelling mobile experiences.
You are invited to attent final presentations and guest critique for the Interactive Media Division Graduate Seminar Design and Technology for Mobile Experiences, Monday December 6th from 10am-12n in the Zemeckis Media Laboratory, Los Angeles.
This modern way to make confessions reminded me of a project of Louise Wictoria Klinker and Andrea Berlinger (students at the Royal College of Art in London): the remote confession kit for catholic priests.
Originally blogged by Regine at near near future
Posted by jo at 09:01 AM | Comments (0)
turned
re-turning performance system
turned is an interactive and multi-medial dance performance. Jointly developed and performed by the media artist working at the ZKM in Karlsruhe, Chris Ziegler, and Kazue Ikeda, a Japanese dancer currently working in Berlin. The performance combines elements from dance, painting, visual art and music. The recorded images of the dancing body are sampled and distorted by electronic processing. The motion deconstructed in this manner opens up a poetic vision of losses and destruction. The beholder is taken along on a quest for clues. The piece turned is a turntable: it begins as a concert, continues as a dance, then goes over into an interactive video sequence and finally flows into a 3D-installation. A multi-medial space body develops right before the eyes of the audience.
Synopsis: a) sound/kinetic objects--the concert starts with turntable sound loops. various materials (but no vinyl !) are used on the turntable to start a complex interaction of sound, visuals and movement; b) dance--the dance starts with video and sound fragments based the dancers body in motion. The dancer takes over control of video and sound; c) transformation--the dance is connected to video, video to virtual 3d shapes, and sound is influenced by movement. Fragments of a) and b) will return in c) - another turn.
Between 1993 and 1999 Ziegler developed tools for rehearsal. He was involved in the production of the digital dance school "bill forsythe: improvisation technologies" (ballett frankfurt), which was a cd-rom, published in 1999 by the cantz verlag and the zkm (center for art and media) karlsruhe. After this project Ziegler worked on the relation of sound, visuals and dance on stage in "scanned I-V" (1999-2001). The live dance was scanned and transformed into "traces." This creates a temporal and spatial picture of reference to dance for the viewer about that which has already occured within the performance. "returntable" will permanently develop moving images and sounds in conjunction with the live dance: a "virtual pas-de-trois" of the moving body, visuals and interacitve sounds. the close releationship of all elements on stage will create "returntable": a re-turning movement performance system.
Posted by jo at 08:47 AM | Comments (0)
December 01, 2004
HERE
A Meta.Pervasive.Game
HERE, by Jason Wilson and the members of (N.I.N.E), is a pervasive game allowing 2-16 people to get to know better a city. Players get markers, chalk, sticky notes and 2 identical decks of 50 cards each.
Each team get their cards which come with a set of instructions to follow. The player who draws a BLANK CARD must invent the instruction for that round. The cards are all printed on sticker paper, and the players are encouraged to stick the action cards up in the locations as they're finished, that way, at some later date, a random pedestrian may end up being inspired toward detournement.
A new version of the game will be launched December 4th during the La Superette event and it will come with a copy of their own "community gaming map." By the look of the pictures, that game won't come too soon in my town.
From near near future
Posted by jo at 12:44 PM | Comments (0)
Twilight
Breathing Life Into Architecture
Twilight is an interactive light installation that materialises a light weight, three dimensional, transparent, floating screen. By blowing on one of the paper windmills, the spectator triggers a movement of light and sound. The installation breathes, and this notion is embodied in the gesture of the spectator, the interface, the response of the installation and its effect on the space itself. When interacting with the installation the spectator becomes both audience and performer, both watching the installation and controlling it from under the spotlight. Additional hehe projects can be found here.
Posted by jo at 12:02 PM | Comments (1)
Deep Walls
Loops
Deep Walls, by Scott Snibbe, creates a projected cabinet of cinematic memories. Within each of 16 rectangles, the movements of different viewers within the space are projected, played back over-and-over, and reduced into the space of a small cupboard. Initially, when a viewer or viewers move into the larger rectangle of the entire projection, their shadows begin to be invisibly recorded, and one box within the projection (the eventual destination of the current movements) is cleared out. When all of these viewers leave the larger frame, their shadows are re-played within that smaller, single box, looping indefinitely. Thus the work presents records of the space, organized and collected into a flat cinematic projection. By collecting the viewers' own shadows, the piece reveals how individual objects gain in symbolic meaning, while losing literal meaning, through organization, repetition and display. Quicktime video
Rhythmically, the work presents a complex temporal relationship between cinematic loops. Each smaller collected shadow-film has the precise duration of its recording. A single item in the collection might anywhere from a few seconds to several hours. The temporal, musical relationship between the sixteen frames becomes extremely complex, like Brian Eno's tape loop experiments, always looping individual recordings, yet presenting a unique whole – the repetition period for the entire work can be on the order of days or even months.
Deep Walls is particularly inspired by the surrealist films of Jan Svankmajer and the Quay Brothers and the sculpture of Joseph Cornell. In their films and sculptures, small bodies and obsessive organization of objects into drawers and cabinets symbolically represent interior, psychological and spiritual states. The rational process of organization only serves to bring out an unconscious irrationality. The name of the piece is a design pattern from architect Christopher Alexander's "Pattern Language". His admonition to architects is to build the walls of homes thick, so that cabinets, drawers and windows can perforate the interior space, providing areas to store, display, slice through and ultimately provide more meaning within the home. In the spirit of Alexander, this work gradually absorbs the contents of its environment onto its surface.
Posted by jo at 11:04 AM | Comments (0)
Vena Amoris
A Direct Digital Bloodflow
Vena Amoris, by Helen Paris, is a one-to-one performance which takes place on a mobile phone. (love vein/vain): Egyptians believed that the third finger of the left hand followed the vena amoris. The vein of love that ran directly to the heart. A direct, 'digital' blood flow. Vena amoris is a journey of narcissism and self obsession, employing both visceral and virtual means in an exploration of the perils of self desire: the danger of leaning too far over the black pond of the ever-present screen and slowly becoming captivated, immobilized in the quest for the perfect pixilated image.
"In Vena Amoris...I set out to renegotiate the boundaries of audience/performer relationships, in order to create a performance where I, as performer, would neither look nor be looked at. A one-to-one interaction was designed - not through face-to-face communication, but rather relayed via a cell phone. This decision suggested a theatrical architecture through which I could explore the degree of contact possible between audience and performer. It was accentuated by my desire to confront what and how we communicate with one another, particularly in the light of increasing digital technologies. Over the course of the installation/performance, audience members would be invited to join me, one at a time, in a series of explorations of narcissism, isolation, and immobilization, in which the direct contact and communication between performer and audience was central, and in which lone journeys converged." from Crossing Wires/Shifting Boundaries.
Posted by jo at 10:18 AM | Comments (0)
Station House Opera project
A Global Event of a Different Order
DOMESTIC SPACE needed for use as development and performance location for STATION HOUSE OPERA. New project LIVE FROM PARADISE is a global internet project that breaks new ground in live performance. Three events around the world, each with its own local audience, are linked by video streaming to create a combined performance that is presented at each location as a live movie projected on two screens, edited together in real time.
Each location is unique and has a single camera, which can move from the performance space itself to other places in the building or the surrounding streets. Close-ups, views from windows, street scenes, views of hidden rooms, all from different places, are linked to form a single narrative.
The house/flat/space will be needed for a year from April 2005, as the piece will be tailor-made and rewritten to fit the specific location, whilst the other two performances travel from Brazil to Berlin, Japan to Amsterdam. If you know of a possible location or want more information about the project, please contact Alex Hyde, alex @ artsadmin.co.uk
Live from Paradise is an event which aims to make the ordinary, physical existence of distant performers close, immediate, unpredictable and alive. By joining the physically present performers with performers in remote locations, via the visual language of a narrative film, shot and edited in real time, the audience is confronted with a global event of a different order - one which makes a performance while questioning their own understanding of film, video and live broadcasting.
Live from Paradise will be performed in three apartments simultaneously. In each of the three places the audiences will see the live performance along with video streamed from the other two locations, projected on two screens placed side by side.
Posted by jo at 10:06 AM | Comments (0)
Paragraphie
Virtual Hands Traced in Sound
The Paragraphie installation, by Manon De Pauw, has a very low-tech appearance: a chair, a table with used paper and pencils. You can write, draw, scribble, tear, rub, tap...Microphones inserted in the table pick up the sounds generated and turn them into video loops that are projected onto the table. Virtual hands appear on the writing surface, suggesting actions and leaving traces that are superimposed on those of the participant. This situation explores physical and mental attitudes that often accompany the writing process: a place of frustration and pleasure, communication and withdrawal into oneself.
From near near future
Posted by jo at 08:49 AM | Comments (0)